Finally it does seem that the world, (well the countries in the world who care that is), will hopefully have returned to normality by the end of 2021, which will be wonderful, especially if the world has learned a lesson, (which I doubt but I live in hope).
In the meantime, life goes on here at all things "Wakeman" and we have not wasted any time in preparing as best we can for the good times to come and so here is what can be expected during December.
I'm still doing interviews for various things and that includes the 70s Rockdown triple CD set that was released during November and which I am "fronting". It was the brainchild of a good friend and former head of Universal who was bemoaning the disappearance of TV compilation albums and felt it was time they came back, and that lockdown needed a musical boost.
With his very experienced team 60 great pieces of music from the 70s were made into a three CD set and the only difficulty was the amount of tracks we all loved that never made it and so who knows …..70s Rockdown Volume 2 might not be that far away.
I was very happy to promote it as I felt that not only was it a great collection of music, but also music to put a smile on faces during the lockdown. ….. hence Rockdown for Lockdown! Next radio appearance promoting the CD set will be on the 3rd of December on Times Radio at 8pm.
On the 10th of January, I will be recording a piano part on a new version of David Bowie's Life on Mars which will be a non profit track to celebrate David's upcoming birthday in January. I have been asked to be involved with a few things, (22 to be precise), as regards his birthday celebrations and have selected just three to be involved with.
On the 15th of December I will be doing a very carefully organised bit of piano playing at the Norfolk and Norwich Hospital. There will not be a seated audience but staff will be able to wander in and out of the area I will be playing, carefully socially distanced and doors to wards will be open wherever possible so people can hear and those who don't want to, can get out of bed and exercise by closing the doors! I will be playing Xmas carols and other Xmassy stuff for about an hour until I am thrown out! This is not open to the general public however, so don't come to the hospital please!
On the 18th my annual Xmas of merriment with Simon Mayo will indeed be happening, but with a difference …..I will be playing the piano from home and Simon will be presenting his show from home ……..exactly how this will work technically is somewhat bewildering to me, but I'm sure that those who know will make it happen, so tune in to Scala radio on the 18th as anything could happen!
And I won't be idle on New Year's Eve either, as my good friend Jools Holland has invited me onto his Hootenanny special where we will perform a piano duet of the piece we recorded for his new album a few weeks back.
Also of course, the Rick's Plaice New Year's Special will appear on January 3rd and it's turned out really well so maybe I'll be sitting in the dressing room at the Hootenanny studio having a preview before I'm called to play!
I will do a whole GORR of my thoughts for 2021 in the January ramblings and I am determined to be positive as indeed I have tried to be throughout this pretty awful year.
So all that's left for me to do is to wish you and your families and loved ones, as happy a Xmas as possible.
…and on a real naughty promotional front..…if by any chance you are wondering what to buy as presents for people…there's always Wakeman's Music Emporium!!!
Or perhaps…
If you'd like to show the world that #TheOnlyCureIsKindness, get one of these fantastic, ethically produced t-shirts to support AnimalsAsia's vital work to save moon bears trapped in bear bile farms. animalsasiastore.co.uk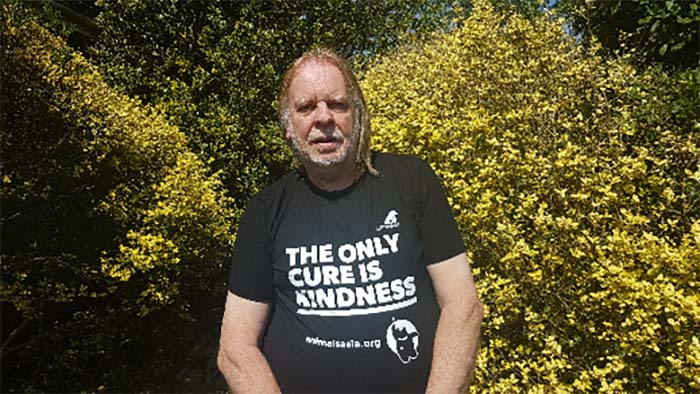 Here's to a bright future for us all……………but before I go, I'd just like to mention that early next year I will be involved in various fund raising events for Labrador Retriever Rescue Southern England (LRRSE) a UK registered charity who currently have nearly 90 Labradors and Golden Retrievers (as well as a few other breeds!) in shelter rescued from the barbaric dog meat trade in China, patiently waiting to be brought back to the UK and another 11 they have committed to.
Their volunteers often have to pay butchers thousands of pounds to free these animals and stop them being needlessly murdered.
Rachel and I are hoping to take in one of these dogs who have had such a disgusting start to life and so we are planning some events along with my great friend Peter Egan to see where we can help.
So if you can, please support anything we do for these dogs and of course the wonderful Moon Bears and the cat charities we care about who have shown us mere humans how vital they have been to us during the pandemic.
Rick
---
Previous Editions