I can't believe we're into August and already 2016 is starting to take shape and fill up.
The YET ANOTHER EVENING WITH RICK WAKEMAN concerts at the beginning of the year was not so much a tour but more scattered dates throughout the first four months. This was due to other filming, television and radio commitments having been booked and so the solo shows were slotted in around these other things.
There were quite a few venues that we were unable to slot in because of lack of spaces and so it has been decided to do the YET ANOTHER EVENING WITH RICK WAKEMAN PART TWO series of concerts!
Already some dates have been booked and confirmed which are....
FEBRUARY
Sat 6th - Medina Theatre Newport Isle of Wight
Wed 10th - Gala Theatre Durham
Fri 12th - Central Theatre Chatham
Sun 14th - Westcliff Theatre Clacton.
MARCH
Fri 11th - Steinway Festival London
Sat 12th - Steinway Festival London
APRIL
Fri 22nd - Camberley Theatre
Fri 29th - Prince of Wales theatre Cannock
MAY
Fri 6th - Gordon Cray theatre Stevenage
Sat 21st - Harlow Playhouse
More shows are being constantly added and so keep checking the website for updates.
WAKEmanFEST15 ticket sales are up and running and the response has been absolutely tremendous and all of us involved with the three day event are truly excited about it we hope that it is as special for all who come along as it is for all of us taking part. An advert will be appearing in Prog magazine shortly.
August is usually a quiet month, but it suddenly seems that 2015 is going to be an exception to the rule.
On the 4th of August I will be doing a pre-record for Radio Sheffield to promote the Barrow Hill concert on Friday September 11th. This is a rare opportunity for the English Rock Ensemble to get together and to be in such a great venue, (I just love steam trains)!!!...is the icing on the cake for me.
For at least 10 days I shall be in the studio with Erik Jordan putting keyboards on some tracks recorded and written by the musician Armando Peralta. Mainly Hammond organ and piano; it's always nice to work on other people's tracks when the opportunity arises and providing I like the music and think I can offer something to the songs.....
On the 20th there is a site visit to the Gliderdrome to finalise a few bits and pieces, but it has come together so well, I suspect it will be more of a social visit in the end!!
On the 22nd I fly to Russia and perform there the next day at a private function in Moscow. I am extremely fond of Russia and so am looking forward to it immensely.
On the 27th, it's back in the studio to do some more recording with Emmie Beckett and to complete the recording for the Xmas EP which is coming together brilliantly.
August also sees quite a drastic sort out of equipment and much will be catalogued ready for sale toward the end of the year. I have decided it's time to downsize as regards equipment that I rarely use but it will still be a tearful goodbye to some of the keyboards in particular.
Looking ahead into September....on the 3rd it's the Classic Prog Rock Awards at the Globe in London and I have the lovely task of handing over an award. I can't say who it is, but it's well deserved that's for sure.
I was thinking that I might say a few sensible words for a change when handing it over, but after a good deal of thought, (8 seconds), decided that wasn't the route to go down and so will be thoroughly ridiculous as usual.
Finally, looking way ahead into December and the two concerts at the Granary, sadly Adam will not be there as he will be away rehearsing with Black Sabbath for their forthcoming tour, but as well as Jemma and Oliver I am lining up a very special replacement for Adam that I know will be a tremendous success and that will be confirmed and announced in the next GORR, if not before.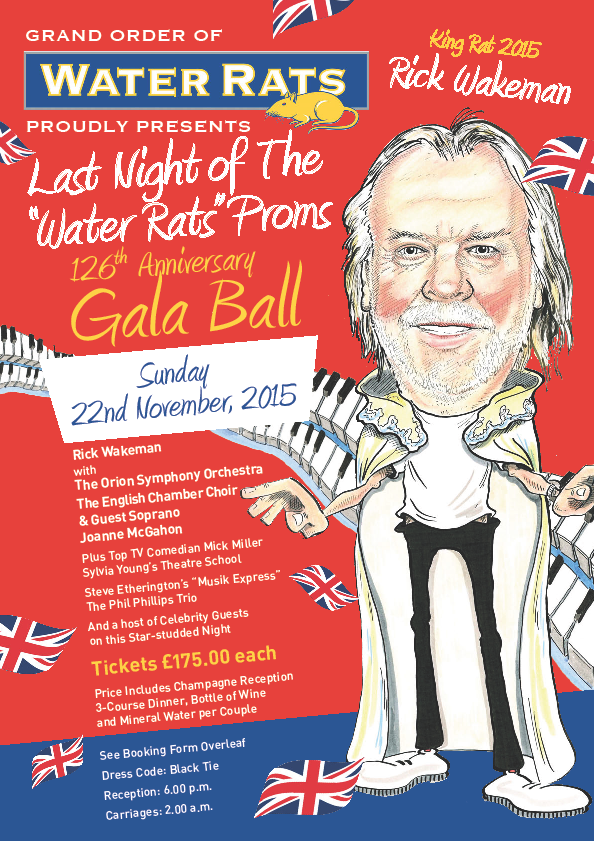 Finally....a little mention for my Grand Order of Water Rats Ball in November. My last one as King Rat. If you fancy an amazing night out then I can promise you that's that what this is!
Cheers,
Rick
Previous Editions