2 GORRs in one as so much has been going on it was impossible to preview all that was going to happen, about to happen, likely to happen or indeed might not happen at all!!
I'll start by recapping a little......
Following two weeks of rehearsal at The Granary, ARW / YES, (Jon, Trevor, myself, Louie and Iain Hornal), left for Warsaw for the first show of the short European leg.
Unfortunately, my left hand was still strapped up after having stupidly fallen over during rehearsals. (It's still aching now but I reckon another couple of weeks and it will be fine).
Concerts followed in Manheim, Sweden and Copenhagen. In Sweden we played Sweden Rocks which is a fantastic festival but mainly hard rock and metal bands, (Ozzie played the night before us so I missed son Adam by a few hours). We were all a little worried as to how prog would go down but the audience were fantastic and there was such a great feeling all round.
Back in England we played Newcastle City Hall which brought back many memories, but especially the opening night of the Journey to the Centre of the Earth Concerts....oh boy, would I like to do that again!
Then we went to a venue I hadn't played before...The Barbican at York. I love York and indeed, all the surrounding areas and spent a very pleasant day wandering around before the show. It was all too good to be true of course as the drive home was a joke. The A14 had loads of closures and diversions and lots of the diversion signs had either been knocked over, not put out or pointing in wrong directions. What should have taken me 45 minutes, took just under 3 hours. and guess how many people I saw working on the roads?....
.........no prizes if you said...."no more than 3".
Then on the 12th we headlined the second day at the O2 for the Stone Free Festival and it was great to see so many friends there including Lisa Wetton who I had a long chat with about John and the fun we had together and she told me one or two stories as well!
It was also lovely to see my fellow Moon Bear Ambassador in Peter Egan and indeed the wonderful Jill Robinson who founded Animals Asia and deserves to be made a Dame for what she is doing.
I thought we played pretty well and afterwards we said goodbye to everyone as they headed for Heathrow Airport and I headed home!
I was invited to the Stephen Hawking service at Westminster Abbey but sadly due to food poisoning I was unable to go, (well actually the problem was that I was able to go...every 15 minutes), and so was absolutely gutted. Such a wonderful man and such a music lover.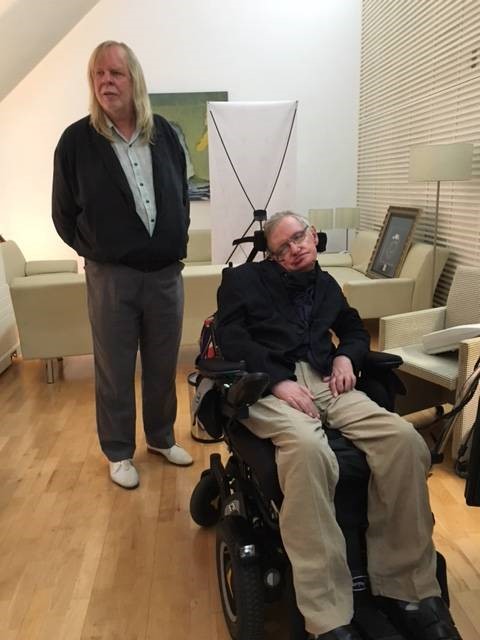 Friday 22nd is an important day for me as I will be spending the day with Toby Wood who has mixed the new Piano Odyssey album and it is final approval time before it is delivered for mastering., Everything I have heard so far I am thrilled with, so I look forward to posting a great report by the weekend about what happens next.
On Saturday 23rd I am doing a somewhat unique evening as part of the Marylebone Festival at the Wallace Collection in London. The festival is the brainchild of Meghan Cassidy, (and if you are wondering who she is, then just look at the credits on Journey, King Arthur and eventually on the new Piano Odyssey albums and you will see she is an excellent viola player and the son of Jan and Denis Cassidy who manage and created the Orion Symphony Orchestra). The evening is in aid of helping homeless people who are trying to get back on their feet. It has been a real success and I am very happy to help and so the festival came up with the idea of an "interview with music" idea and so the plan for the evening is as follows.
On stage there will be myself, a string quartet, a piano and my son Adam, who will be interviewing me. (This is terrifying as I mentioned to him what I'd like him to ask me and he simply said "No need dad. I know just what I'm going to ask you. Opportunities like this don't happen very often so I'm going to make the most of it").
The evening will be a mixture of me being thoroughly embarrassed by my son, plus hopefully a bit of an insight as to how I have ended up where I am today musically, plus I'll play a two or three pieces on the piano and perhaps a duet with Adam and the string quartet will play a couple of arrangements of music from my childhood that I loved and indeed, still love.
After the evening is over, I will drive home shell-shocked and Adam will drive home with a broad smile on his face!
It will be a very different event and will undoubtedly be a lot of fun and NEVER again repeated!!
On the 25th I will be filming in London for two documentaries. Yet another insight into David Bowie and another one about the influences of classical music on popular music. I really love doing these kinds of television and they do seem to be pretty popular too.
Moving into July, on the 2nd, I will be at the Royal Albert Hall as part of the festival of science and space in collaboration with Classic Album Sundays....
Here is their blurb about the event.
---
As part of our Festival of Science: Space, prog-rock legend and former Yes keyboardistRick Wakeman joins Classic Album Sundays' Colleen Murphy to discuss his passion for space.
Classic Album Sundays is an immersive shared listening experience which allows fans to get as close as possible to the artist's music - with focus on their influential albums and songs - through stories told by the artist and listening to music on a world-class audiophile hi-fi system.
Exploring Rick Wakeman's friendships with astronauts, astrophysicists and cosmologists and how the cosmos inspired his music including his work with Yes, his solo outputs including No Earthly Connection and Out There and his contribution to the 1985 album Beyond the Planets - based upon Gustav Holst's The Planets. Tracks from these key works will be played on an audiophile hi-fi sound system.
No idea where they found the photo from....I normally try to date them from what my hair is looking like!
On Wednesday 4th I fly to Chile for a concert at the Movistar Arena in Santiago on the 6th with symphony orchestra and choir with Guy Protheroe conducting. (Incidentally, we have just finished mixing the live recording that was made at the wonderful Teatro Colon and that will be released sometime around the middle of next year)...
On Saturday 7th there is a solo piano show in Buenos Aires at the Teatro Gran Rivadavia, which I have never played before so am looking forward to that very much.
On July 8th I will also be in Argentina in Mendoza at the Auditorium Angel Bustelo and then back to Buenos Aires for a second piano show on the 9th.
On the 13th I have a day of filming for Sony Classical all to do with the Piano Odyssey album and now seems as good a time as any to give you a full update.
I have already mentioned the final listen through and then it will go to mastering ready for a September 12th release.
I will give the full running order in the August GORR.
Here are a couple of tasters though as regards the tracks.
I tried on the Piano Portraits album to do variations on Bohemian Rhapsody but could not make it work. This bugged me ever since and the realisation came that it needed more than piano as, as I was arranging the music for the album with a string section and choir I realised I could make it work with a lot of careful thought.
To say I am pleased with the end result, is putting it mildly. I also wanted to play it to my great friend Brian May as I value his opinion very much, especially as regards Bohemian Rhapsody!!
Well, not only did he love what I had done but wanted to add some acoustic guitar to part of the track which indeed he generously did, and it is magnificent.
Moving on to the end of the month, I will be rehearsing with Dave Colquhoun and Matt Pegg for a trio show at Ronnie Scotts on the 29th and 30th.
Just to give a taster of August I have piano shows on the 3rd in Treviso and the 4th in Trieste with a possibility of one in Faro on the 5th.
That's pretty much it.......I will be doing updates over the course of the next few weeks with a full on GORR in August.
Enjoy the summer....or have we already had it?
Cheers
Rick
Previous Editions