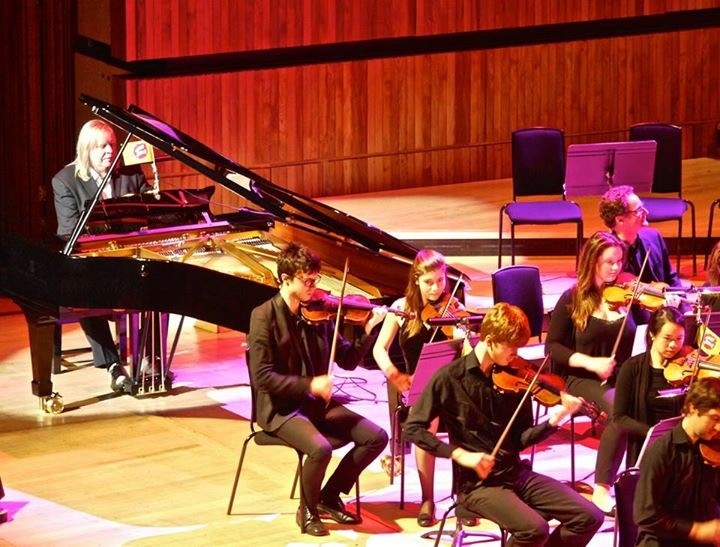 Well what a month October was. A real mixture of good and not so good, but we'll deal with the good!
The great stuff being those of the concerts in the Czech Republic, the shows at Lancaster Priory, the Noisy Notes concert at the Royal Festival Hall and the Sir Tim Rice concert in Gateshead where I performed The Hymn and Julia from 1984 with Emmie Beckitt.............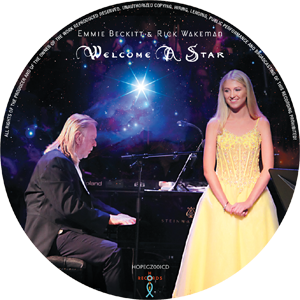 ..........and whilst on the subject of Emmie. Our Xmas single is released on December 4th and I am absolutely thrilled with the recording which has on it The English Chamber choir, Dave Colquhoun and the Orion strings and woodwind.
There are already numerous radio and press interviews lined up for Emmie in the lead up to the release of Welcome a Star and the response from those in the media who have heard it already has been tremendous so hopefully it will get its fair share of plays over the Xmas period.
Here is a copy of the press release that is going out from her management company.

---
WELCOME A STAR – THE BEAUTIFUL NEW CHRISTMAS SINGLE FROM RISING TALENT EMMIE BECKITT AND RICK WAKEMAN
Welcome A Star is the first single from 15-year-old soprano Emmie Beckitt, in collaboration with classically trained pianist, composer and TV presenter, Rick Wakeman. Rick first met Emmie, who has been singing classical repertoire since the age of ten, at a fundraiser for Kids'n'Cancer – and was so impressed by her crystal clear voice and effortless range that he decided to record a song from his oratorio The New Gospels, which tells the real story of Christmas, with her.
The result is Welcome A Star, a beautifully melodic Christmas song, released by Hope Records via Nova Distribution, on Friday 4 December. Welcome A Star was recorded by Emmie with the English Chamber Choir and the Orion Orchestra, and features Rick on keyboards.
Currently studying for her Grade 8 exam in singing, Emmie Beckitt takes part in the Senior School Chamber Choir at St Augustines, Scarborough, North Yorkshire and is also a member of her school orchestra and jazz band, as she plays tenor saxophone, violin and piano. When aged only 13, she supported Katherine Jenkins in concert and a year later, appeared at Roy Wood's sell-out show at the Birmingham Symphony Hall, where she received a standing ovation. She recently sang The Hymn, composed by Sir Tim Rice and Rick Wakeman, with an orchestra and choir, at The Sage Gateshead, as part of the Tim Rice Concert Series.
A Fellow of the Royal College of Music, Professor of the London College of Music, former YES keyboard player, Watchdog presenter and renowned Grumpy Old Man, classically trained pianist Rick Wakeman began his career as a much-sought-after session musician in the late Sixties, playing on more than 2,000 records by a wide variety of artists, including Cat Stevens, David Bowie, Marc Bolan and Black Sabbath. In the early Seventies, he found fame in his own right as a member of first Strawbs and then YES. As a solo artist and with YES, he has sold more than 50,000,000 albums. He has written a number of film scores and has become a TV regular, appearing on shows like Never Mind The Buzzcocks and Countdown and of course, Grumpy Old Men and Watchdog. He still finds time to perform numerous concerts around the world every year, ranging from his extremely popular one-man show to extravaganzas featuring symphony orchestras and choirs.
Both Emmie and Rick are patrons of the Chesterfield charity Kids'n'Cancer and a percentage of profits from the sale of Welcome A Star will be donated to that organisation.
Welcome a Star is released on Friday 4 December, and is available in CD and digital single formats.
---
Finishing off October, a last minute participation in a documentary about Top Gear was great fun. I am led to understand it will be broadcast early in the New Year. More news when we have it.
I also co-hosted three shows with Dave Myers, the wonderful Hairy Biker for Planet Rock whilst Simon was on holiday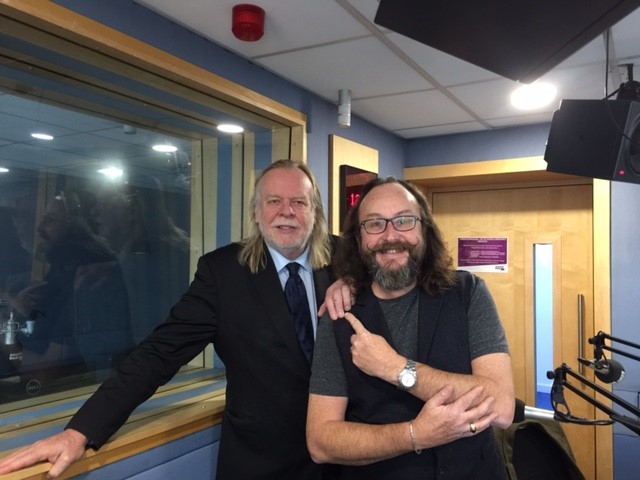 November is a considerably quieter month for me, as indeed is December.
On the 6th November I am recording a series of radio shows for Trevor White for some local stations, (not sure which ones yet but will let you know when I do).
Wednesday 11th is the Classic Rock Awards and I have been invited as a guest. Nothing to do but eat too much and enjoy to live music and those collecting well deserved awards.
On the 22nd it is my last Grand Order of Water Rats Ball as King and it should be an amazing night. We have the Orion orchestra, the English Chamber Choir, the tremendous comic Mick Miller, myself doing a bit, The Sylvia Young School, the Steve Etherington band JUMP and some dancers from Strictly and an operatic soprano who will join everybody for our Last Night of the Water Rats Proms.
It is our only main fund raiser of the year and every penny of profit goes to help our charities that we support. There are still both single places and tables left, so if you fancy a Xmas night out to remember, please consider this as not only will you have a great time but also you will be supporting some wonderful charities.
On the 26th I will be filming a programme about keyboards with a Dutch television company and can't give you anymore information than that at the moment!!!
Finally, it is with a tinge of sadness that I have decided to sell my wonderful 1986 Dodge Ram van that I bought during the Union tour way back to drive around America in, and indeed was joined on much of the tour by Trevor Rabin, Alan White and Bill Bruford.
Mr Dodge, as he lovingly became known, eventually came back to the UK and was used on a couple of ERE tours before ending up being sold to Planet Rock who had it as a prize in a massive competition.
I always missed owning Mr Dodge and when the opportunity came to buy him back, I did just that. It has not been looked after and considerable work was undertaken in preparation for him to star in the BBC 4 documentary about the tour bus.
Mr Dodge has still only done around 56,000 genuine miles and I have all the original registration documents from America as well, but I simply no longer have anywhere to keep him and he is languishing under a huge caravan car cover.
Truth of the matter is Mr Dodge needs some TLC and to be driven and enjoyed so the time has come.
If anybody is interested at all, then any enquiries or sensible offers to Alan Machen at The Jade Motor Company.

So that's about all the news to date. I'm sure there will be much to report in the December GORR about plans for 2016 and a few forecasts as well for what I hope will happen.
Not many days left until Xmas!!!
See you next month..........Rick
Previous Editions