What a month September is turning out to be. So much happening and so much about to happen too......let's start with Jon Anderson's very well deserved Prog God Award at this year's Prog Rock Awards held at the Globe Theatre in London.
Jon knew that I was going to present him with his award but what he didn't know was that our manager, Brian Lane, had organised a surprise which he wasn't expecting by flying Trevor Rabin in from Los Angeles to join me in the presentation to Jon.
The following two days were then taken up solely with one interview after another in preparation for the UK dates next year.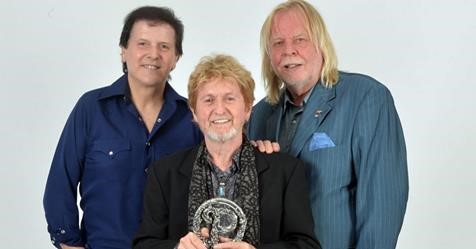 Jon Anderson accepts Prog God Award
Still on the ARW theme, the rehearsals in Los Angeles during August were tremendous. ARW is truly a five piece band and Louis Molino III and Lee Pomeroy are worthy members of ARW both being astonishing players. It's certainly the finest line up performing YES music that I've ever been a part of and to see Jon singing in front of us was very special. I truly felt he had come home.
I leave on the 18th of this month to join everybody for production rehearsals in Orlando and everybody concerned is very excited about all that is about to happen.
The next two GORRs I will write in America and will very much be tour reports and I am sure there will be much to relate.
Meanwhile, September continues with much to finish off and I have already completed the recording of The Piano Gallery (working title for the January TV advertised released of 15 tracks of piano).
It will be released on Universal and on Tuesday 6th we will be spending a whole day at the Granary making a film about the album for Universal and the TV advertising including some live performances of the recorded pieces.
I am thrilled with how the recordings have come out with Erik Jordan doing a splendid job of recording my favourite Steinway Model D at the Granary.
Just moving back a few weeks. I've just been sent this photograph from the Starmus festival in Tenerife which I hadn't seen before...Lots of faces to spot in there apart from myself and a few astronauts!!...Hans Zimmer, Steven Hawkins, Garik Isralean, Sarah Brightman, Brian May amongst others - good luck in naming them all...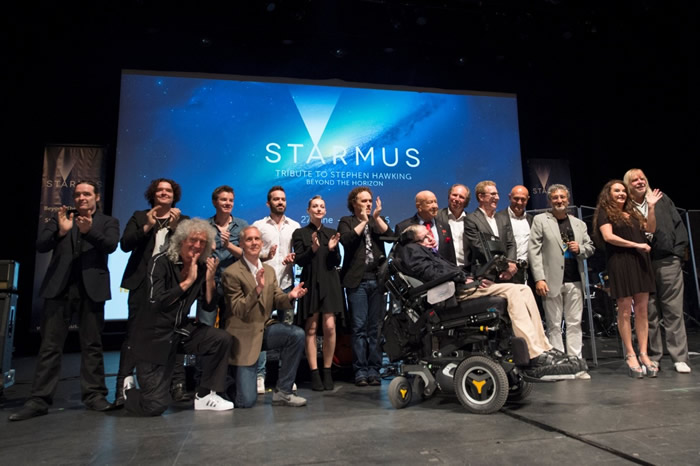 The Starmus DVD with myself and the English Rock Ensemble with Brian May guesting on Starship Trooper is now available at Wakeman's Music Emporium and boy did Brian play amazingly!
On the 7th I have a meeting with Universal about another project which sounds very exciting. More news later in the year once I know more!
On the 10th I drive to St Ives to play at the festival the following day and whilst down in the West Country will be visiting Tintagel where plans are well underway for a July 2018 performance of King Arthur with all the bells and whistles you can imagine. It has all the potential of my going more over the top than I've ever gone before!!
On the 12th I am recording 2 radio shows for Radio 2 entitled Rick Wakeman's Key to Keys which are hour long programmes to be aired at Xmas. All the music and content will revolve around keyboard players past and present and music that has been keyboard influenced. Live guests and some fun elements should make these very entertaining hours and there is genuine talk of broadcasting this series weekly in 2017.
On the 15th I will be thrilled to be attending my son Ben's wedding to the lovely Stefanie and that should set me up nicely for my trip a few days later to join up with the rest of ARW.
There is no doubt that the remainder of this year and 2017 are going to be monumental music years and its just mind boggling what is happening to this ageing piano playing pensioner!!!......
Love to all x..............Rick
Cheers,
Rick
Previous Editions