For once I'm not starting with an apology as to why this GORR is over a week late.......there truly is a good reason which I'm sure you will understand as I will now reveal it.
As you all know, Journey to the Centre of the Earth was nominated for Best Live Show for 2014 in the Prog Rock Awards along with some other very notable luminaries.
I was really knocked out that we were even nominated as indeed were all the band, crew, management, choir and orchestra.
The votes were counted that had been sent by the readers of Prog Rock Magazine sometime ago and whilst we knew we had great support from all of you who follow the website, I was not expecting the call two weeks ago to be privately told Journey had actually won.
After recovering from the shock, I made the conscious decision to publish the GORR after the Awards ceremony, which was indeed last night at the Globe Theatre in London, (11th September).
It's always a great occasion meeting up with friends connected with classic rock and also being part of something as a living witness that prog rock is now such a major part of the music industry and pretty much embraced by all now as a genre of music that all musicians and bands can take a little something from and from speaking to many of the new bands around now, that is certainly happening.
The 2014 Progressive Music Award winners in full:
Limelight: Messenger
Live Event: Rick Wakeman - Journey To The Centre Of The Earth 40th Anniversary Tour
Breakthrough: Syd Arthur
Anthem: Anathema - Anathema
The Storm Thorgerson Grand Design: Fish - A Feast of Consequences
Album of the Year: Transatlantic - Kaleidoscope
Band of the Year: Dream Theater
Outer Limits: Uriah Heep
Virtuoso: Kef Arjen Lucassen
Guiding Light: Sonja Kristina
Visionary: Robert John Godfrey
Lifetime Achievement: Andy Latimer
Prog God: Peter Gabriel
Yesterday was indeed an interesting day all round as the first person I bumped into at the awards was my great friend and favourite author, Ian Rankin, who is a huge classic rock fan, indeed an all-round extremely knowledgeable guy when it comes to music and the arts..... "Rebus the Musical"?.....well stranger things have happened!!!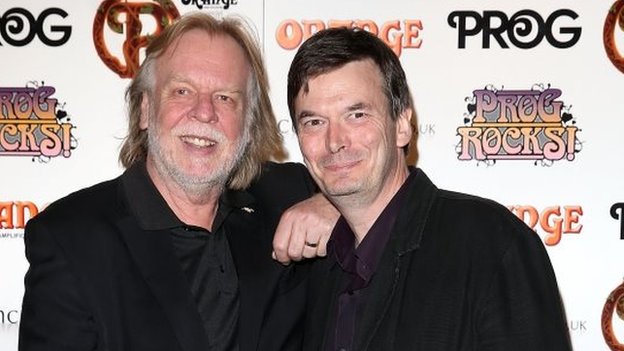 Earlier that day I had been at Maida Vale Studios in London to do some filming for the new series of the very successful Rock Life of Brian Pern starring Simon Day and involving cameo parts from so many musicians, bands and singers. It's truly hilarious and whilst I was doing my bit there were also visits from Chrissie Hynde, Roy Wood and Melanie C....Amazingly as well, recording in the studio next to ours was Robert Plant...so a great day all round.
Ironically, the day before I had also been at Maida Vale studios to record with Jools Holland for his Radio 2 show and that was just so much fun. We did a duet of the classic old melody "Black Eyes" which sounded great. Jools is a fabulous guy and great performer and it was like sitting in the corner of a pub having a chat. The broadcast date isn't known yet, but it will appear on the website as soon as we know.
Moving on to record release news, I am told that the old A&M catalogue is very close to hitting the shops, (what shops we have left that is) and the remastering has been phenomenal. Quite the best I've ever heard. The vinyl too is going to sound great.
Starting the weekend of the 12th we start rehearsals for both the Tenerife Starmus Festival and also for South America, (Brazil and Argentina), where we will be playing three different shows, so with Starmus, that's 4 different sets to get into our heads.
At the moment, the itinerary for Tenerife looks something like this, although it has changed almost on a daily basis!!!
Wednesday 24th.....fly to Tenerife...set up equipment.
Thursday 25th...start rehearsing, then I fly to Las Palmas to take part in a discussion inside the world's biggest telescope!!
Friday 26th...fly back to Tenerife, more rehearsing, (with Brian May), then the concert in the evening.
Saturday 27th.....a piano performance of an original piece dedicated at a ceremony for the late Neil Armstrong and Alexey Leonov....then rush to the airport to fly home!
I will mention more about South America in the GORR for October, but in the meantime, here's what the itinerary as regards concerts looks like at the moment
Sunday 19th October - Buenos Aires Gran Rex Theatre - EITHER BAND SHOW, OR BEST KNOWN WORKS SHOW WITH ORCHESTRA, CHOIR AND BAND.
Monday 20th October - Buenos Aires Gran Rex Theatre - JOURNEY TO THE CENTRE OF THE EARTH.
Wednesday 22nd October - Belo Horizonte Palacio das Artes - BAND SHOW.
Thursday 23rd October - Belo Horizonte Palacio das Artes - JOURNEY TO THE CENTRE OF THE EARTH.
Saturday 25th October - Campinas Coliseu - BAND SHOW.
Monday 27th October - Sao Paolo - JOURNEY TO THE CENTRE OF THE EARTH.
Tuesday 28th October - Sao Paolo Teatro Bradesco - Afternoon sound check and run through.......ARTHUR/HENRY BEST KNOWN WORKS SHOW WITH ORCHESTRA CHOIR AND BAND.
Wednesday 29th October - Rio de Janeiro Teatro Bradesco - BAND SHOW.
Thursday 30th October - Porto Alegre - AFTERNOON JOURNEY SHOW.
Friday 31st October - Porto Alegre. Aroujo Viana - BEST KNOWN WORKS SHOW WITH ORCHESTRA CHOIR AND BAND.
Saturday 1st November - Curitiba Teatro Positivo - BAND SHOW.
We are not 100% that these are the right theatres, but as soon as we have full confirmation we will of course post everything on the website. Please do not email questions at this stage!
Back to this month and there's the final round of village fete opening, (I love village fetes) and then it will be getting ready for South America and before I realise it, the Xmas decorations will be going up.
Finally, a little advertisement for the Grand Order of Water Rats Ball at the Grosvenor House in Park Lane. More than three quarters of the tickets are now sold and it's going to be an outrageous evening, so if you're looking for something very special to lead you into Xmas then please book a ticket or tickets or indeed a table. I promise you won't regret it.
Enjoy the remainder of the month and see you next month!
Cheers,
Rick
Previous Editions