Return To The Centre Of The Earth (1999)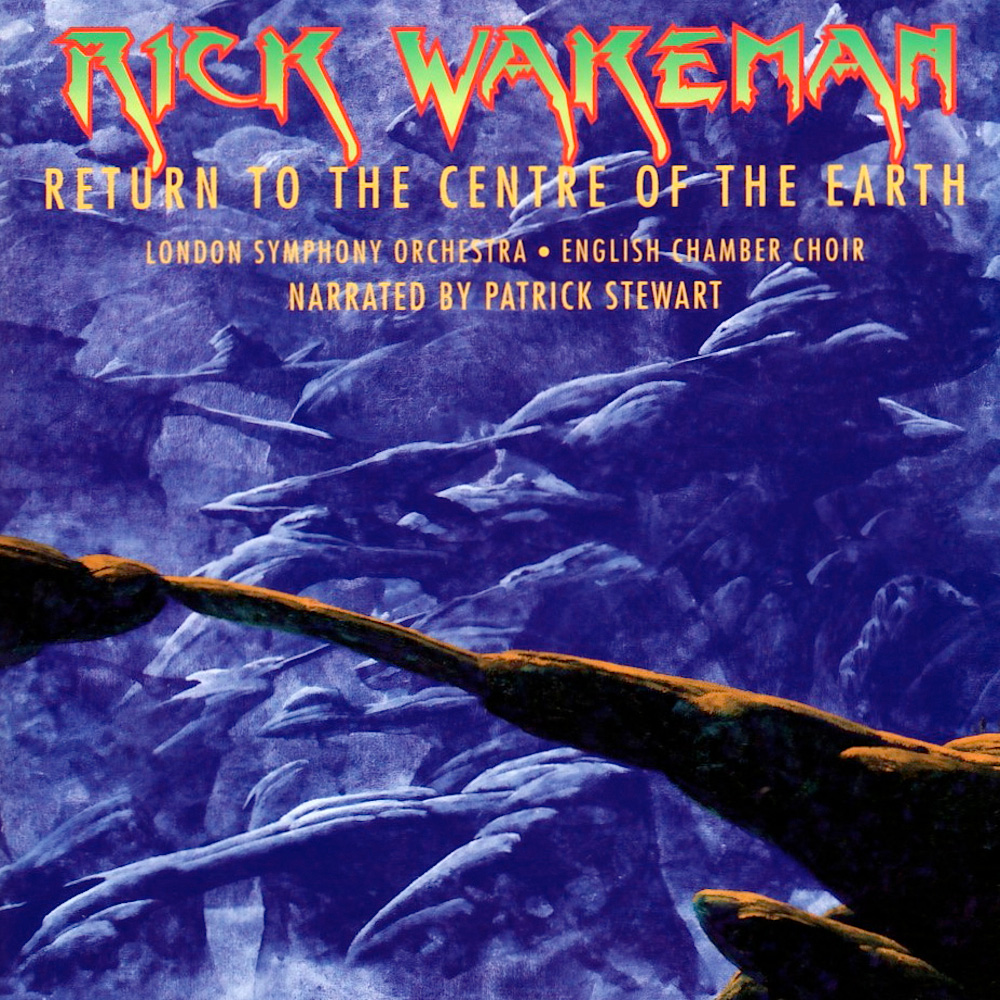 Buy CD&nbsp from Emporium
Buy Double Vinyl LP&nbsp from Emporium

Rick's Perspective
Notes
The follow up to Journey and an album that I am immensely proud of. All credit to all who took part in its making and especially to the faith of Richard Lyttelton at EMI Classics. It's just a shame that his enthusiasm wasn't shared by EMI worldwide, but that's life.
Wakey's Verdict
A must if you like prog rock.
Little Known Trivia
EMI refused to release it in South America and so an Eastern European bootleg company decided to bridge the gap for irate fans and sold 250,000 copies for which neither myself nor EMI received a penny. When I mentioned this to EMI in Brazil they basically said they couldn't care less!!!! - and you wonder why the music industry is in such a mess!!!
Reviews
Colin Didcott on 28th May 2006 [Other reviews]
Not a remake of the first Journey. It does hold true to the original format but the music itself is a whole new majestic work of art, with a star laden list of artists that develop it marvelously. Patrick Stewart's narration, which is more involved than on the first Journey, adds to the overall depth and interest. If you like Rick Wakeman's music, you will enjoy this album immensely. As ever, a musical work of this quality is rarely appreciated without a little effort from the listener too. Thank you for another wonderful album Rick!
David Momberg on 27th October 2003 [Other reviews]
An incredible album!!! I had only heard bits and pieces before, but not the whole CD until last week and it is awesome from start to finish. Patrick Stewart's narration really adds the sophistication to this piece it deserves, and all of the guest performances are excellent too, esp. Ozzy on "Buried Alive",Trevor Rabin on "Never is a Long,Long time", and Bonnie Tyler on "Is anybody there?". Also, "Dance of a thousand lights" is a powerful and moving piano tour de force with impeccable orchestration behind it. I don't understand why this album has received so many negative reviews(not on this site!!) I LOVE IT and highly recommend it-in my opinion much better than the original!
Peter Nagel on 9th July 2003 [Other reviews]
Bought my first Wakeman in '74, being 20 years of age. That was Six Wives of Henry VIII. Already collecting YES, Purple, ELP and the likes, when this music crossed my path, and I fell in love instantly. Over the years I bought every new album up until '79 and then I stopped for some reason. Rediscovered Rick in '03, with Return etc. Boy, did I miss out on a lot of beautiful stuff. This album is a masterpiece, and every time I listen to it, I discover something new. Have managed to collect about 25 albums I missed so far. Thanks Rick, for giving us so much joy, I hope you live to be a hundred in good health.
Lukas Devita on 30th June 2003 [Other reviews]
Really one of the greatest contemporary albums, and the saying "the more I listen, the more I like it" suits here well! Recently I was very much into research about the Hollow Earth (which is represented widely and very colourfully on internet sites). You will find it amazing, inspiring or at least tantalizing; satellite pictures showing possible holes on both Earth poles (well, don't be so quick to reject :), inner sun, thoughts on Aurora Borealis, tales from Tibet or Mt. Shasta USA; All the sources have in common the theory about life underground even cities, one of the most "well known" of is Shambala; If it all could be taken at least as a metaphor, you will read positive stories or philosophical gems on peace, love, nature, care and harmonic society, or who knows, maybe you will spark to go to explore the mystery, as Rick Wakeman did, to inspire us, would you let me put it like that. Lying on a carpet with the amount of internet papers and maps all around I was listening to the Music - the first Journey and the Return - and it's like travelling without the body moving... till the words that fells deep inside - "...Time within time, dream within a dream"... While listening I surely wonder to my self how our dear Rick is familiar or interested in Hollow Earth theories today, but it's not the most important because the music speaks for itself. I only know (but have not heard) the other album called Agartha by Miles Davis which is some how connected to this theme (Agartha is the name of the underground kingdom in many myths and legends). I also dare to say that the Return To The Centre Of The Earth is an even more philosophical and poetic album and if someday Rick will open the doors of sound and discover the long lost cities of the ancient wise ones the Agartha kingdom, then that would be a great sequel of the story by the only composer who has spiritual keys to do this! [well, it's not a suggestion, just a personal thought; though if someone has interest in the fields mentioned above I'd be glad to name the websites]. Lukas Devita, Vilnius, Lithuania (Oriental dept. of the National Library)
Kevan James on 3rd April 2003 [Other reviews]
"Journey to the Centre of the Earth" was the first Rick Wakeman I acquired - it was a present on my 13th birthday and I'm now 40! I won't lie and say I was a Wakeman fan then; I was a Jules Verne fan (much more exciting that that Harry Potter stuff that kids have to put up with these days!!). But my love affair with Rick (oo-er missus!) started on that day and my collection has continued to grow ever since. When I first heard about "Return to the Centre of the Earth" I was very excited. I had visions of it being a remake a la Mike Oldfield and "Tubular Bells" 2, 3, etc.: basically the same tunes but done in a more modern style. I was hugely disappointed when I first heard "Return". I wanted long suites of music not a group of songs on a theme. And that narration! Too long, too dull! I liked some of the songs but was not impressed by the whole package. Now a few years on I've rediscovered this album. I still don't like the narration but the music ... Wow, what was I thinking? Rick's work with the orchestra on this album is what Yes's "Magnification" should have sounded like (just imagine what it would have been like with Rick on board). Just listen to those songs - Ozzy, Justin Hayward, Trevor Rabin: all absolute masterpieces. And the interplay between the keyboards and the orchestra on "The Kill" is truly incredible. So Rick - sorry for doubting you. Great album, and a lesson learned - it's always worth going back to re-evaluate something you don't like. Right - where's my Jule Verne book?
Andy Long on 21st February 2003 [Other reviews]
Back in 1974 Rick released the massively successful Journey To The Centre Of The Earth, an album which boosted his solo career several hundred steps up the ladder of success. Ever since that time Rick has wanted to do a sequel album but time, money and technology have never been favourable to the idea - until now. The new album, Return To The Centre Of The Earth was released in March on the EMI Classics label with a huge press campaign and entered the national album charts at number 34 in it's first week. Three years of writing, planning and recording together with a £2 million budget have resulted in Rick calling this 'without question the most important and exciting musical journey that I have been involved with since the original Journey.' The contributions of the London Symphony Orchestra and the English Chamber Choir bring the album it's underlying classical feel whilst the contributions from many top contemporary vocalists add a rock edge, all of which is perfectly blended together by Wakeman's astoundingly diverse talent. Incidentally those vocalists include Justin Hayward, Bonnie Tyler, Katrina Leskanich and Rick's long-time friend Ozzy Osbourne, who takes the lead for Buried Alive, it's difficult to imagine any other vocalist handling this particular song so well, despite it's unusual time signature. With narration from Star Trek's Patrick Stewart carrying the story along Return...is a compelling listen. 10/10
Serguei on 18th January 2003 [Other reviews]
Simply.... is a masterpiece... the orchestra, the choir, the singers... EVERYTHING.... everybody should listen this album as much as the classical masterpieces of the last centuries…
Shawn Perry on 12th November 2002 [Other reviews]
For almost 30 years, Rick Wakeman has been slogging it out as one of the preeminent keyboardists in rock -- notably as an off and on member of Yes. Along with ELP's Keith Emerson and Deep Purple's Jon Lord, Wakeman brought the keyboards to the frontline of the band -- often outsoloing guitarist Steve Howe while throwing in dashes of classical and jazz just to show how well schooled he was. As Emerson and Lord barely stray away from the confines of their respective group situations, Wakeman has continually forged ahead -- composing full conceptual pieces in which his keyboard navigates makeshift ensembles of rock players around full-blown orchestras and choirs. During the early 70s, Wakeman lodged these musical experimentations with classic allegory. With historical accuracy, he boldly released The Six Wives of Henry VIII and The Myths & Legends Of King Arthur and The Knights Of The Round Table. His most well-received album, however, was based and titled after the classic Jules Verne tale -- Journey To The Centre Of The Earth. In and around 1974, pretentious, theme-oriented albums were becoming the norm. Jethro Tull ( Passion Play, Thick As A Brick), The Who (Tommy, Quadrophenia), Pink Floyd (Dark Side Of The Moon), Genesis (The Lamb Lies Down On Broadway), even Wakeman's present band, Yes (Tales From Topographic Oceans) -- had all been stirring up the conceptual fire with a measurable amount of success. Rick Wakeman -- brandishing his infamous sparkle-covered cape -- decided to up the ante with Journey. To begin, he brought in The London Symphony Orchestra and The English Chamber Choir. Then he patched together a group of session players and singers. To give Journey a more cerebral slant he threw in a narrator by the name of David Hemmings to read passages in a manner in which the listener became part of the journey. To make it even more ambitious, he performed and recorded the album "live" before an audience. It was pretty much downhill from there. Progressive, classically-charged rock outraged the critics, and gave way to a roots revolution in the form of punk, heavy metal and an R&B strain called disco. Wakeman and his ilk had to either conform or retire. With occasional resurfacings, he would never eclipse the artistic satisfaction or commercial success of Journey. These days many of the great conceptual works of the 70s have re-emerged. Tommy, Quadrophenia, Dark Side Of The Moon and The Wall have all been submitted to various treatments. Technical advances in video, audio and instrumentation have made the idea of recreating such monstrosities far easier. This, along with a desire to possibly regain his momentum, is what has apparently driven Rick Wakeman to Return To The Centre Of The Earth. For almost 77 minutes, Wakeman pulls out every trick in the book. Once again, he procures the services of The London Symphony Orchestra and The English Chamber Choir. He employs a backing band of virtual unknowns. This time, however, Wakeman peppers his piece with a few big names. Guest vocalists include Trevor Rabin (Yes), Justin Hayward (Moody Blues), Bonnie Tyler, Katrina Leskanich (Katrina and The Waves) and Ozzy Osbourne. Reading the passages this time -- with infectious precision -- is Patrick Stewert, best known as Captain Jean-Luc Picard of Star Trek: The Next Generation. Contained within the elaborate gatefold packaging by longtime Yes artist Roger Dean, Return opens up with a pattern of lush orchestrations, slyly garnishing Stewert's poignant articulations throughout. Utilizing a number of computerized gadgets and tools, the keyboards are seemingly shrouded -- certainly not as distinctive as Wakeman's sound can be. It isn't until the fourth track --Buried Alive -- that Return sonically surges forward. Ozzy Osbourne's vocals swim effortlessly through The London Symphony's framework. Wakeman unleashes one of his trademark solos during the song's mounting crescendo. From here, the Return takes on a rather ethereal tone. With no real central theme to convey -- aside from the journey itself -- there are, nonetheless, some stellar performances. Bonnie Tyler's nicotine-stained reading on Is Anybody There? is lifted to a glossy finish as the English Chamber Choir sails through each emotive verse. Tony Mitchell's generic turn on Mr. Slow is also largely carried by the orchestral/choir accompaniment. Trevor Rabin's vocals and guitar on Never Is A Long, Long Time take a backseat to the additional instrumentation. This is one song that could do without the spiraling strings and chamber voices. On the other hand, Justin Hayward is able to make Still Waters Run Deep sound like something he'd do with the Moody Blues. The CD's most lilting track may be the Katrina Leskanich vehicle, Ride Of Your Life. Without her "Waves" and without Wakeman's somewhat excessive arrangements, Leskanich executes her range to its full potential. It would be interesting to see a song like this launch her comeback. With talk of comebacks, one must wonder how Return To The Centre Of The Earth fits within the contemporary music scene of the 90s. In truth, it doesn't. It isn't much more than a self-fulfilling aspiration for Rick Wakeman. A chance to relive the days of glory, with an assembled "Dream Team" along for the ride. Perhaps Wakeman should think about a visual counterpart --a multimedia concert or film. Today's audiences -- many orbiting in a nihilistic trance -- simply don't have the patience or desire to sit through something like this. Thought-provoking, literary exercises of this sort have never registered high on the richter scale of mass taste and popularity. Originally published October 1999 -- www.vintagerock.com
Rudy Deblieck on 26th September 2002 [Other reviews]
I like musicals very much and this one is gorgious. It is nearly twice as long as the first one (which i also loved dearly) but so much more matured. Return is captivating to listen to and i'm always sorry at the end of the journey... Can't wait for Rick to create an opera based on 'Lord of the Rings', please Rick do it....
Frank Herber on 16th August 2002 [Other reviews]
First of all I have to say it's a wonderful piece of music and impression. The excellent narration from Patrick Stewart (I still await the moment when he'd say: Make it so!), the fantastic Orchestra, Rick's oustanding keyboard playing, good vocals (nice to hear again Trevor) and a wonderful Choir. That's the right album to turn of the lights and enjoy listening it with closed eyes in the darkness. It has slow and quiet parts and loud parts with pomb. What else could be used to describe as bombastic?
Tim Boudewijn van der Wart on 4th August 2002 [Other reviews]
Return To The Centre Of The Earth, a more than perfect achievement from (now proven again to be) the best composer of this time! Together with hundreds of other gifted musicians (LSO, ECC, Bonnie Tyler, Fraser, Trevor Rabin, Ozzy Osbourne and many others) Rick has proven the world that good quality music has not and probably will never die out! EMI gave Rick the possibility to do this project to the full, and that is exactly what he has done. With a visualizing and breathtaking narration from Patrick "Jean Luc" Steward this album takes you all the way to the centre of the earth! Every song is perfect, the balance between the relaxed and heavy rock songs couldn't be any better, the solo's are pure ecstasy, Rick plays the old Moog like no-one can! This album is a perfect, and I mean PERFECT blend between classical and rock music, the melodies are complex, the recording is of the best quality and the singers are great! Rick Wakeman at his very best, let's all hope that he will from now on get more opportunities to do projects like these because there is no living soul who can do this better than he can, everyone not deaf should buy this album!
Matt Wharton on 29th June 2001 [Other reviews]
Well what can I say, simply brilliant. I have just finished listening to it, and it really leaves you on a high. My favourite has to be 'Buried Alive' with Ozzy Ozbourne. The keyboard solos with the Mini Moog are absolutely the best I have ever heard!!! If you don't own this album you're missing a big part of Rick's best work, for music cannot get any better!!!
Tina Hansen on 7th April 2001 [Other reviews]
This album offers something for everyone, from Ozzy Osbourne's hard-rocking Buried Alive to the instrumental Dance of a Thousand Lights. And the narrative by Patrick Stewart--well, it's AWESOME! If you're tired of the same old stuff served on a small plate, do yourself a favor and buy this rich platter.
Seamus Fitzmaurice on 31st October 2000 [Other reviews]
Overall this album has some lovely music and the digital production is outstanding. It is best listened to on a good hi-fi a few times (and not all at once) as it grows on you. The singers are very well matched to their respective songs - I personally like "Mr.Slow" from newcomer Tony Mitchell but among the six songs there's something to appeal to all tastes. Some of the lyrics are provocatively thoughtful. Rick's keyboards are spine-tingling when he enters with his extended solos over the choir and orchestra. The narration, needless to say, from Patrick Stewart, is beautifully spoken accompanied by hushed keyboard textures. My only reservation about this performance is the English Chamber Choir - they acquit themselves well and obviously put a lot of work into it, but they are of the older "big choral society" school. I would have preferred a fresher choir with younger sounding voices. However this is just a small quibble and is really a matter of individual taste. This album should be viewed as a landmark of modern music and is a great achievment for Rick Wakeman - Congratulations.
Hector Lugo on 14th August 2000 [Other reviews]
Recently listened to JTHCOTE after many years. Yesterday found the Return CD. I have not stopped playing it. From "the Return Overture" to the breathless "the Kill" to "the End of the Return", this is a masterpiece. Perfect. flawless and pure.
David Westerlund on 2nd May 2000 [Other reviews]
I bought this album the day before new year's eve. I'd heard quite a lot of Wakeman albums, but seeing as they're all so different, I didn't really know what to expect. But HOT DAMN! As soon as I heard the overture, I knew I was in for a good time. It was such strong and well arranged music. So many emotions. By the end, I felt as if I'd visited a magical land. This is in my opinion a far better album than Yes "The Ladder". And the evening I first listened to R.T.T.C.O.T.E was much more memorable than the actual new year's eve 2000. How about that?
Reniet Ramirez on 12th April 2000 [Other reviews]
Finally!!!! After Rick playing for OZZY OSBOURNE on "Sabbath, Bloddy Sabbath" & "OZZMOSIS", Now what a lot of fans have been waiting for, OZZY sings for Rick. On the song "Buried Alive". Great song, great album, a MASTERPIECE.
Ross Kendall on 11th April 2000 [Other reviews]
I'm sorry, but I have to disagree with most of the reviews of this album. I think that Rick should NOT have named it "Return to the Centre of the Earth", but "Journey to the Centre of the Earth and Haven't we already done this before?" I think the whole
Kevin Montgomery on 30th March 2000 [Other reviews]
Simply the best solo album of his career! A complex mix of classical orchestration, choir, solo vocals, and rock instrumentation. Rick suggested that this album may be the pinnacle of his career and I whole-heartedly agree! Some of his works with with Yes (such as Awaken) are still beyond compare. But, to anyone that has enjoyed his music through the years, you must get this album.
Prof. Manfred Sauter on 28th February 2000 [Other reviews]
I am a private music teacher of classical guitar, music theory, music history and era training in Costa Rica. I found allways Mr. Wakeman's compositions of a high quality, but this CD is superb. In Central America we love british oratorios (specially Handel's); but after 250 years we witness the true reborn of this musical genre, in its most pure structure, but in a contemporary language. Who is the most important British composer of the XX century? Is it Frederick delius, is it, Vaughan Williams, is it Benjamin Britten?. Sorry, it's Rick Wakeman. In 100 years I think "Edipus Rex" by Stravinsky and "Return to the Center of the Earth" by Wakeman are the best examples of contemporary oratorios. Thank You, Rick.
Phill Emmerson on 21st February 2000 [Other reviews]
It was with eager anticipation I waited for this album, on first listening I was a little dissapointed, surely Rick had not gone the Mike Oldfield way, let's hope not. Let Journey rest as the masterpiece it is, no Journey 3 please, one good thing about Return is The Dance of a Thousand Lights, 4/10
Stan Maciolek on 12th November 1999 [Other reviews]
I attended a concert of "Journey" years ago and was floored by the performance. Unbelievable!! When I heard of the "Return", I hunted down a copy, knowing that I would not be disappointed. I wasn't. It's Awesome!! One of the best compositions I've heard in years. THANKS RICK.
Ben Jordan on 27th July 1999 [Other reviews]
In an age inundated with computer riff-driven musician wannabes, it's like a breath of fresh air to hear this album. With each soothing electrical note, Rick imparts his soul into his creation, and in so doing makes a serious mockery of the others, who re
Guillermo Villegas on 19th July 1999 [Other reviews]
I've only listened to this album twice, but I liked it! Is pretty good, it's like reading a read-along storybook and the songs are the sounds that tell when to turn the page,there are relaxing songs and good, thrilling songs, this album demonstrates why Rick is one of the best musicians in the world, while writing every instruments piece, all the music and words are composed by Rick Wakeman! How does he do that!
Valentin Albillo on 4th July 1999 [Other reviews]
Having never heard of it, I saw this album at a large department store and picked it up thinking it was simply a new re-recording of "Journey To The Centre Of the Earth", (which as always been a favourite of mine) only this time using the digital technolo
Brandon Cohen on 12th June 1999 [Other reviews]
Sometimes when I get punished I go upstairs and put on my cdman and lie on my bed and close my eyes. Listenining to this extraordinary music makes me feel like I'm on the journey with Professor Lidenbrook and Axle. My dad got me into your music and now I'm a big fan of it. I am a 10 year old boy and me and my father share one.
Bjorn Olaf Syvertsen on 12th June 1999 [Other reviews]
Return really is a return, the return of the Wakeman of the 70s, but with improved 90s sound quality. There are some really good songs on this album, like "The End of the Return", "Dance of a Thousand Lights", "Buried Alive" and "Is Anybody There?". What is also positive, is that the arrangements backing the narrative are better than on "Journey". The singers are better than on "Journey"; no voices cracking this time. As with lots of CDs from the 90s, however, this album is too long. Too much narrative to my taste, and some of the songs on the second half of the album are not that great, like for instance "Mr.Slow". A shorter, tighter, album, presenting about two thirds of this album, would be great. Then this album would be about as good as "Journey".
Bjorn Olaf Syvertsen on 8th May 1999 [Other reviews]
This album is among Rick's best, although I have some negative comments as well. I think the album is a bit too long. The narration could have been cut down to about half of what it is now, which would have been more in line with the format of "Journey.."
Erik Bailey on 24th April 1999 [Other reviews]
Rick, you've done it again! This album is absolutely incredible. It's the best combination of Rock and Classical that I've ever heard, and it will be no mean feat to surpass. I've played a few tracks for my friends, and they're totally transfixed! Just as my father and my uncle introduced me to your music 8 years ago, I must now return the favour and introduce them to this album... it's your best work yet. Congratulations.
David Samuel on 16th April 1999 [Other reviews]
Well this has to be the next best thing to heaven!!(Sorry) Sitting at my PC, reading the Web site, writing a review and listening to Return To The Centre Of The Earth all at the same time. It was all I had hoped; not as good I think as the original, but then that was terrific anyway. Standout tracks have to be DANCE OF A THOUSAND LIGHTS and BURIED ALIVE, and of course the excellent narration: Jean-Luc you done us all proud!! Well done Rick, here's to the next one.
Alan Ball on 5th April 1999 [Other reviews]
Wakeman fans of my vintage (70's) should buy this without a second thought - it is Wakeman doing what he does best. The blend of orchestra, choir and rock band just works perfectly, with those immaculate keyboards given just the right prominence, without taking over the whole stage. The writing is melodically superb, and very distinctively Wakeman (just listen to that overture a few times). If you HAVEN'T heard Wakeman, listen to the samples on rwcc, but PLEASE listen several times, because this REALLY grows on you. Here's hoping this album is successful enough to allow more epics in the future.
Paul Adams on 25th March 1999 [Other reviews]
A perfect, seamless blend of rock, orchestra and voice with excellent production values. This album is Rick at his best with magnificent orchestration and some outstanding keyboard work (once again the LSO are made to work hard for their money!) All in al
Scott Bassin on 22nd March 1999 [Other reviews]
I just received a copy of Rick's new CD and one word comes to mind AWESOME!!! It's 77 minutes and absolutely brilliant in every respect.This is the album we've been waiting for. Patrick Stewart's narration is superb and the Return Overture(which starts th
Dennis McFadden on 22nd March 1999 [Other reviews]
Quite a bit longer than the first 'Journey' with natural similarities in the storyline, narrated eloquantly by Patrick Stewart. I've only heard it twice and my feelings are mixed; it wasn't the resounding work I expected, but there are some superb keyboa