The Six Wives of Henry VIII (1973)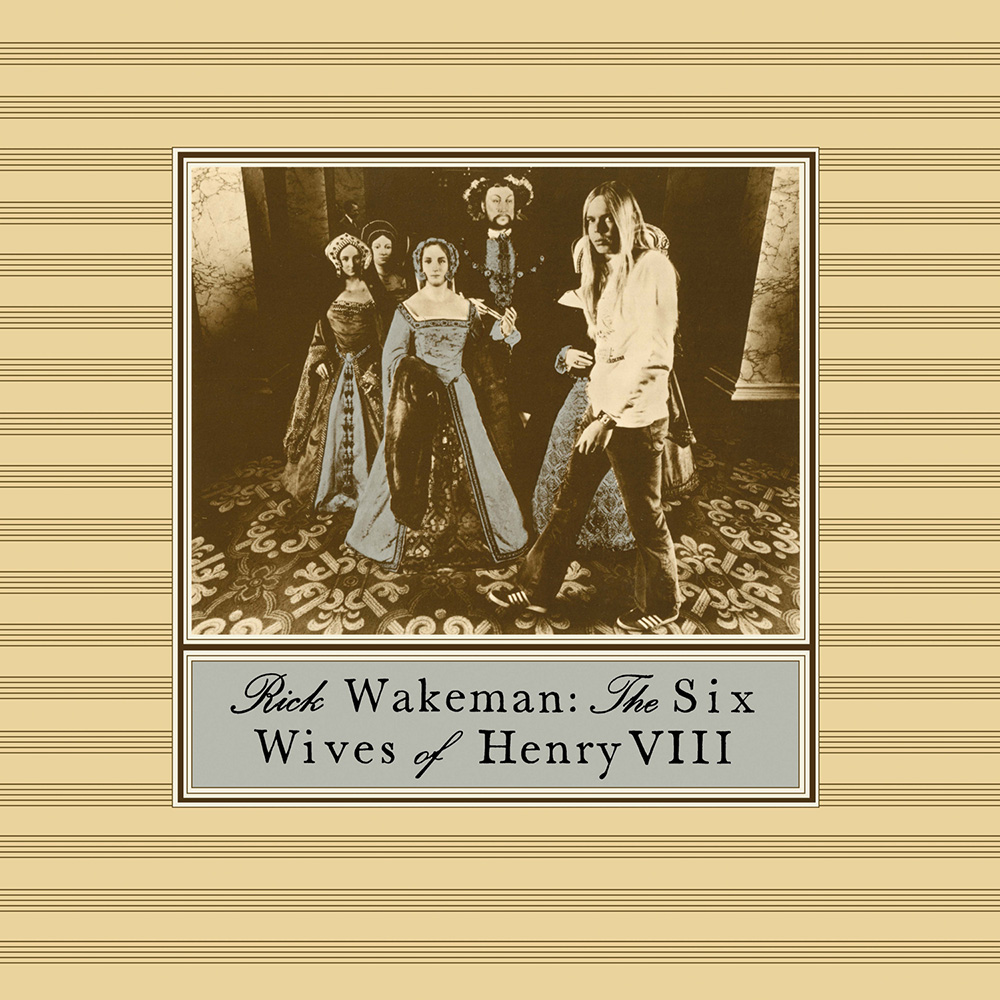 Buy CD&nbsp from Emporium

Rick's Perspective
Notes
Much has been documented about this album so it's difficult to say anything new except that the stinking reviews it got when it came out really hurt me. Also the fact that A&M records hated it didn't help. I felt very much alone with this album until help came in the form of Tony Burdfield and Terry O'Neill at A&M who actually liked it because it was different and worked their socks off to give it a fair hearing.
Wakey's Verdict
I'm very proud of this album and all who played their part in recording it and making it a success.
Little Known Trivia
On the front cover, just behind the wives you can pick out the late President Richard Nixon.
Reviews
Maya Ostrom on 3rd February 2015 [Other reviews]
If you are a true audiophile (if you are reading this you probably are) with a half decent system, be prepared for an audible assault. Be prepared to hear things you never heard before from The Six Wives of Henry VIII (not the wives themselves of course!) and be prepared to be sonically moved again the way I was when I first played the vinyl release back in the 70's. The Quad mix reveals just how much effort and professionalism went into this album. All versions on this release are outstanding and while the new stereo mix may lack the drama of the quad mix, it is still truly smooth and beautiful and does real justice to the original. I absolutely loved this album when Rick first released it in the 70's. I also love the full fat bluray live Hampton Court release but, this version 'had' to happen and I'm glad I have lived long enough to see and hear it!
Luke Dalton on 22nd September 2011 [Other reviews]
I had the good fortune to go to a Rick wakeman concert in Birmingham not so long back and briefly met him and got his autograph. I think it's about time I reviewed this excellent album as I will never forget the first time I heard it on cassette as it is one of the reasons why I play keyboards today. I was amazed at the diversity and complexity of the album and I was also amazed at how Rick uses a huge variety of keyboard instruments to great effect including piano, church organ, hammond organ, harpsichord and a variety of synthesizers. What also impressed me was the fact that the keyboard instruments are played with dazzling and exciting virtuosity but Rick combines this with the ability to write memorable melodies. There are many changes in tempo all the way through the album but the changes never sound jarring or out of place. In fact they sound very natural and add to the excitement of the album. In my opinion this is truly an outstanding album and one that should and will be remembered for a very long time.
Cristian Muresanu on 16th January 2009 [Other reviews]
Here is really Rick Wakeman born in what it will become the living legend in music. Styles are still mixed, ranging from classical inspirations, female choir and classical piano style interludes which bonds the pop-rock structures together, special recommandations to track Jane Seymour (electronic organ interpretation), and a good inspiration from Bizet's Carmen opera on Catherine Howard timecode 3'56" of the piece.
Daniel Hull on 13th January 2006 [Other reviews]
The Six Wives of Henry VIII is undoubtedly a classic and should be listened to by Progressive rock fans the world over. The Drumming in the second track is reason alone to listen to the album, and Rick's unique style of writing and performing sets it apart most prog rock outfits of the time. If you liked any of Rick's other albums, or indeed, and early albums from Yes, you'll undoubtedly enjoy this one. It's a classic.
Eric on 10th October 2005 [Other reviews]
Very interesting first try by Rick. With this album, it's obvious he wasn't quite used to writing songs entirely on his own; sometimes the transitions between different sections are jarring and surprising. The production of the album is a bit flat; it doesn't sparkle like later Wakeman albums. However, Rick really does show off his vast ability on keyboards, and his ability to write memorable material. The number of keyboards on here is VAST and it seems to me that Rick sticks to mostly traditional keyboards, indulging in synths only very little. The songs all have catchy melodies, and some of them are down right beautiful. The style of these songs generally fall in between what I call "rocking rave ups" "beautiful piano ballads" and "all out prog epics." I leave it to the listener to decide which is which, but this album is actually very diverse. One might imagine that a keyboard led instrumental album could grow a bit mushy in sound; not so here. Rick varies his attack on the keyboard enough so that each song has something new to it. Rick was only getting started; his compositional ability only grew after this. However, the very down to earth nature of the production (the "concept" was no doubt tacked on at the last minute) makes this one of his easier albums to get into. Rick isn't trying to tell a story, nor is he making a grand spiritual statement. He's simply writing music he wants to write, and the album is much better for that.
Jim Beaty on 14th August 2004 [Other reviews]
A "creative" work? Yes. A "virtuosic" work? Yes. But, is it an "intelligent" work? Absolutely. Keep this in mind when sampling or listening to the whole album - contemplate the "mood" of each piece in relation to the actual history of Henry VIII and his wives. Each track exemplifies Rick's knowledge and understanding of the history of Henry's relationships. This is a highly "realized" album best described as "history translated into music." A welcome musical experience for anyone interested in British history, British royalty or diverse keyboard talent.
Ken Willis on 29th December 2003 [Other reviews]
Still the best! Rick's first three albums are his best three, and the first of them all is the best of them all. After all this time, this record is still unbeatable. Some say it has dated : if this is true, it isn't obvious. The sounds are still powerful, evocative, and varied; the playing is masterful; and the compositions are inventive. This solo album without vocals was a daring move which opened the door to some wonderful music. Musically (if not historically!) we could wish old Henry had had ten wives.
Saulo Silva on 15th November 2003 [Other reviews]
The first true Rick's solo album is pure devotion to music. The piano play is great and the synthesizers are very mature... special attention to the Moogs, they've never sounded as punchy in other albuns as in this one. Jane Seymour is a true painting, you can almost see it when listening to the beautifully played organs. Catherine Parr is Rick's best song to me, so I'm not commenting on this one, just see for yourself. Catherine of Aragon has a very cool piano intro and very good Moog basses. It's a pity it's a short album (around 35 mins), but you will be pleased to listen to it. All the tracks are played with great emotion and passion.
Foster Cullen on 25th October 2003 [Other reviews]
I loved every inch of this 12 inches of vinyl when I bought the original LP back in '73. I cannot understand why it was not well received at the time. This is an awesome classic and for me is still Rick's finest hour. It is timeless and for me listening to it a few times again recently it still sounds every bit as interesting and exciting as when I first heard it 30 years ago. Some of Rick's 80's music sounds dated now but not this. I just wish Henry VIII had married more wives! If divorce and marriage inspire him like this maybe Rick should consider an "Elizabeth Taylor" project.
Joe B on 9th July 2003 [Other reviews]
This album is a mix of a classical, jazz and fusion with a rock twist. If you are deeply into instrumnetal music, this is the album for you. Great compositions all the way around with what I think is a genius concept.
Mark Taylor on 27th June 2002 [Other reviews]
I have always regarded Rick as one of the big three players, the other two being Keith Emerson and Chick Corea. I saw all of them play at their peak energy level around 72' to 75' and they were awesome!! On the Wives album I have always loved Cathrine Parr and I learned the riff and used it for many years to impress my friends. Thank you Rick you are a true original and an immortal.
Lloyd Raines on 6th May 2002 [Other reviews]
I'm not surprised that your guests to this site voted this Wakeman's best. I bought the album when it was released and was quite moved by it as I am to this day. What may be surprising is given the number of albums by Wakeman, his first is his best. There is great individual expression found on this album, thankfully the record label allowed that freedom. It was released around the time of the greatest progressive rock work ever, "Tales from Topographic Oceans." I believe the mindset of the group of musicians called "Yes" was at it's highest level of understanding then.
Tim Boudewijn van der Wart on 30th March 2002 [Other reviews]
Pure virtuosity from the keyboard master on his debut album! Fast stunning and harmonic pieces of music that have quality written all over them. Personally I like Catherine Parr the best, because of its super sonic Hammond solo's, Jane Seymour is a masterpiece too; a gorgeous church organ composition which can easily compete with a good music piece from Bach or any other well known composer. Anne Boleyn has got beautiful bits of piano and Catherine Howard has such a lovely melody that it can make you cry. Anne of Cleves is one to get used to; you will probably not like it the first time you hear it, but the more you listen the more you love it. A key album that forms the foundation to every Wakeman or even prog rock collection!
Joe on 31st January 2002 [Other reviews]
A near perfect fusion of rock and classical music. The use of both synthesiser and piano is something which Rick (Wakeman)does better than any other artist I have listened to. The album goes from medieval rock to contempory classic in a way that is almost impossible to describe to someone who has not heard Wakeman before but suffice to say that the piano has never sounded better. Ah well, I have tried, go listen for yourself and you will hear what I mean. A masterpiece!
Fabrizio Motta on 29th December 2001 [Other reviews]
My first album of "Wakey". It's simply a (perhaps the best) masterwork. "Catherine Of Aragon" it's a special composition, it's concise, it's spectacular: it's Rick Wakeman. I'm a keyboard player and I can feel everything of all the passion and the genius of Rick. I can't never stop playing "Catherine Of Aragone". Mellotrons, Organs, Grand Piano, Moog Synthetizer are a part of Rick Wakeman and of me. Rick Wakeman will be a part of my heart, life and existenze...for ever. Thanks Wakey.
Tony Elvers on 25th November 2000 [Other reviews]
This truly was the genesis of Rick Wakeman as a full fledged classical/rock musician. The wonderous mix of musical themes in this album opened my eyes to music in general and to Rick in particular. Because of this album I bought a Korg 800DV synthseiser and began!
Suha Onder on 23rd November 2000 [Other reviews]
Well this is the only Wakeman album I own but it must be the best cos I can't stand a better one. Tracks 2, 5 & 6 are wonderfully arranged numbers, full of finger braking chord changes and flashy solos from Wakeman, plus some solid bass and drum playing by masters Bruford , White and Squire. The conceptual feel and strange Wakeman photo in the booklet adds a degree of quality to this work. Highly recommended to all YES and in fact to all prog fans.
Nic Neufeld on 20th November 2000 [Other reviews]
Wow...but for the mature power and beauty of Criminal Record, this one would easily have the spot for best Wakeman record ever. This was my introduction to Ricks solo career (I bought it because of the Six Wives medley on the Yessongs video). Catherine of Aragorn starts off the album with the perfect blend of classical and rock; complex and powerful, yet beautiful. Ann of Cleves lacks a bit I'd say given its inclusion on such a inimitably great album, but still is excellent nonetheless. Catherine Howard has beautiful melodies, although now I prefer Ricks version from The Piano Album. I cant remember the next two very well. I believe Jane Seymour has some cool church organ work, but nothing to rival Close to the Edge or Judas Iscariot, or even Going For The One. Anyway, the final piece, Catherine Parr, is an absolute gem. It jams. Rick tears up a Hammond organ with lightning speed, and flies through chord changes without slowing down his insanely out of! control right hand. Unbelievable. I want to learn how to play the organ now! Anyway, this is an excellent piece, and if you dont own it already, I wonder how you managed to find this site. EVERY Wakeman fan, no matter how casual, needs a copy of this album.
Christian Loebenstein on 13th November 2000 [Other reviews]
This is RW's first major album as a solo artist. The themes reflect character, personality and fate of King Henry VIII's wives as Wakeman tries to describe them musically. The album stands out as one of the prime examples of classic progressive Rock in the seventies and is a must-have for every collector. For further listening check out the excerpts on "Yessongs" and especially the "Jane Seymour" segment, which includes the best mellotron playing I have ever heard.
Dave Eaton on 31st October 2000 [Other reviews]
Rick's first solo release, and the fact that nearly thirty years after it's initial release, it still sounds fresh and exciting is testiment to the sheer quality of the composition and performance that Rick achieved. Any Yes fans who delight in Fragile and Close to The Edge and haven't heard this must do so...it's still around! In all honesty, it must be said that Six Wives was the record that got me into Rick's music, and then Yes in the first place. Simply remarkable.
Reniet Ramirez on 12th April 2000 [Other reviews]
Definitelly NOT boring at all. This LP is full of energy with all kinds of instruments. A MUST! It's classical, it ROCKS, it's progressive, etc.
Max Hult on 29th February 2000 [Other reviews]
This album is very good, overall... though I don't like the instrumentation (drums and percussion)... the sound is quite plastic at times... the live versions on "In Concert" are much better... Voyage contains the 4 best tracks of this album, not Catherine Parr though :(... Anne of Cleves is the weakest point on this album... either way you choose, Jane Seymour & Anne Boleyn mustn't be missed as they are two of the greatest Wakeman-tracks...
Sanjeev Raman on 25th November 1999 [Other reviews]
Just got the album today. I have put it on "Repeat" Mode in the CD player!! Blew my brains out, when I heard some of the stuff. Infact, the whole album has an underlying Baroque feel to it. Kinda reminds one of J.S. Bach. But you can't take away the brilliance that hits you every time you listen to the album. The section between the first 22nd to 30th seconds of "Catherine of Aragon" has been ripped off by Iron Maiden and used in the intro to their piece "Mother Russia". Bravo, Mr Wakeman- A masterpiece!! Though I wonder why the stuff that he has composed with YES isn't half as brilliant!
Kevin Saliba on 16th November 1999 [Other reviews]
This is by no doubt the masterpiece of a musician who is a milestone in progressive rock history. Though I prefer to listen to his genius with the band Yes I still recommend this album, in particular to those who are familiar with Yes and the other 1970s progressive giants. Its progressive virtuoso pieces, which are an integral part of this album, are those musical elements which in my view have helped Wakeman to earn the reputation of being a match for other music wizards such as Vangelis and Mike Oldfield. And to make it very special, Wakeman has also employed Chris Squire, Steve Howe, Alan White and Bill Bruford from his former band Yes, thus preserving the progressive elements of that era and make it more listener-friendly to die hard hard Yes fans like me. All in all, this is a prequisite for any serious music collection - go and get it!!
Mike on 21st September 1999 [Other reviews]
I was 13 years old and my induction to Mr. Wakeman"s realm was upon hearing "Catherine Howard" via radio (believe it or not) back in '74. After seeing a TV broadcast of "Journey..." (that I can only now vaguely remember), I bought the "Journey" LP. Soo
Guillermo Villegas on 12th June 1999 [Other reviews]
It is a nice album, it is one of the greatest combinations of classical music and progressive rock I've ever listened to. I really love it, and it's the only good album I've listened from Alan White (drummer on tracks 2,4 and 6). If someone asks me, "Which Wakeman album shall I listen to?", the first one I'll mention would be The six wives of Henry VIII.
Erik Bailey on 31st March 1999 [Other reviews]
I was exposed to this album 8 years ago when my father, a music teacher in Pennsylvania, USA, was introducing me to "classic" synthesizers. At that point in my life, I basically was totally awed by Rick's talent on the keys and didn't really appreciate w
Gustavo Lonegro on 5th December 1998 [Other reviews]
This is a great album showing all of Rick's knowledge. Rick shows in this album he is one of the best keyboard player in the world. The album can make you cry with very well done parts, some of them specially found in "Anne Boleyn" with excellent piano solos. Rick specially shows how quick are his fingers. He is God when he plays the Steinway piano. This album can disappoint you, specially if you are studying to be a pianist, because you feel you'll never play like he does or he did. It's wonderful.
Xavier on 20th October 1998 [Other reviews]
I'm a 16 year old keyboardist in Michigan, and my aunt gave me several tapes to listen to one day, one of which was Six Wives. I popped it in only to find some of the most gorgeous music my ears have ever listened to. My favourite piece is Catherine Howar
Lydia M on 18th July 1998 [Other reviews]
I first found my mother's copy of this album (on vinyl) 4 years ago when I was digging through our record collection for an old Beethoven LP. I didn't give a second thought to the dusty albums of Queen, Simon and Garfunkel, or the Beatles, but when I saw
Tadeusz Jasienski on 22nd May 1998 [Other reviews]
I find this album as one of Rick's best! The instrumentation can impress even today's listener, especially if You like analog synthesizers and other old instrument which today's musicans are now returning to. Hammond, Steinway, Moog, etc. - it seems like Rick chosen to this record the best equipment from that time and also most famous equipment ever. And what about music? For me it's one of the most interesting and inspiring albums I know. I don't agree with people who say that Anne Of Cleves is ugly. If you listen carefully, you can find a very beautiful experience in this chaos of notes! And the intro of Catherine Parr! I got no words enough! This is definitively a "must-buy" for everyone who likes great music.
Don Richard on 15th February 1998 [Other reviews]
I wore out two copies of this album when I was a kid! I still listen to it today on CD. The quadraphonic record has added instrumentation and effects not heard on the original two-track version. The combination of baroque and rock help shape my appreciation for different styles of music.
Bjorn Olaf Syvertsen on 4th December 1997 [Other reviews]
This album is good, though not so good as some people say it is. "Anne of Cleves" is terrible, but apart from that, the five other wives seem much nicer, judging from Rick's music. I'm particularly fond of "Jane Seymour", as it reminds me so much of "Judas Iscariot". More church organ, please!
Richard W. Abrams on 16th November 1997 [Other reviews]
This album contains original music with a "rock opera" feel from the early days of analog systhesizers. The "live sound" is accomplished by minimal use of back-up instrumentation. Pre-computerized syncopation enhances the live, "first take" aural feeling. A Classic blend of rock, classical and jazz elements.
Mats Landstrom on 29th September 1997 [Other reviews]
Six instrumental pieces that are really hot. Bursting with classical influences this is the album that made Rick famous as a keyboard wizard. If you could get hold of the original LP with gatefold sleeve-Buy it! The inside picture with Rick (hair flowing down to his kneecaps) and (nearly) all the keyboards used on the album is amazing. All tracks on the albums are true Wakeman Classics.
Downeast Bruce on 21st June 1997 [Other reviews]
I bought this album 24 years ago, (it still plays well!) I have been in love with it ever since. No other album has ever had such a major influence on my taste in music -thanks Rick!. This work firmly and convincingly establishes Rick as the Premier Musician/Composer of our time (Rick was only 23!). In my opinion, Rick Wakeman is the Mozart of our generations.
Time Lady Rabeca on 31st March 1997 [Other reviews]
This is a great instrumental album with heavy Classical influence, and a hint of Jazz. Jane Seymore blew me off my feet with Rick's work on harpsicord and pipe organ. This one is a must-have if you like Rick's classically influenced material.