1984 (1981)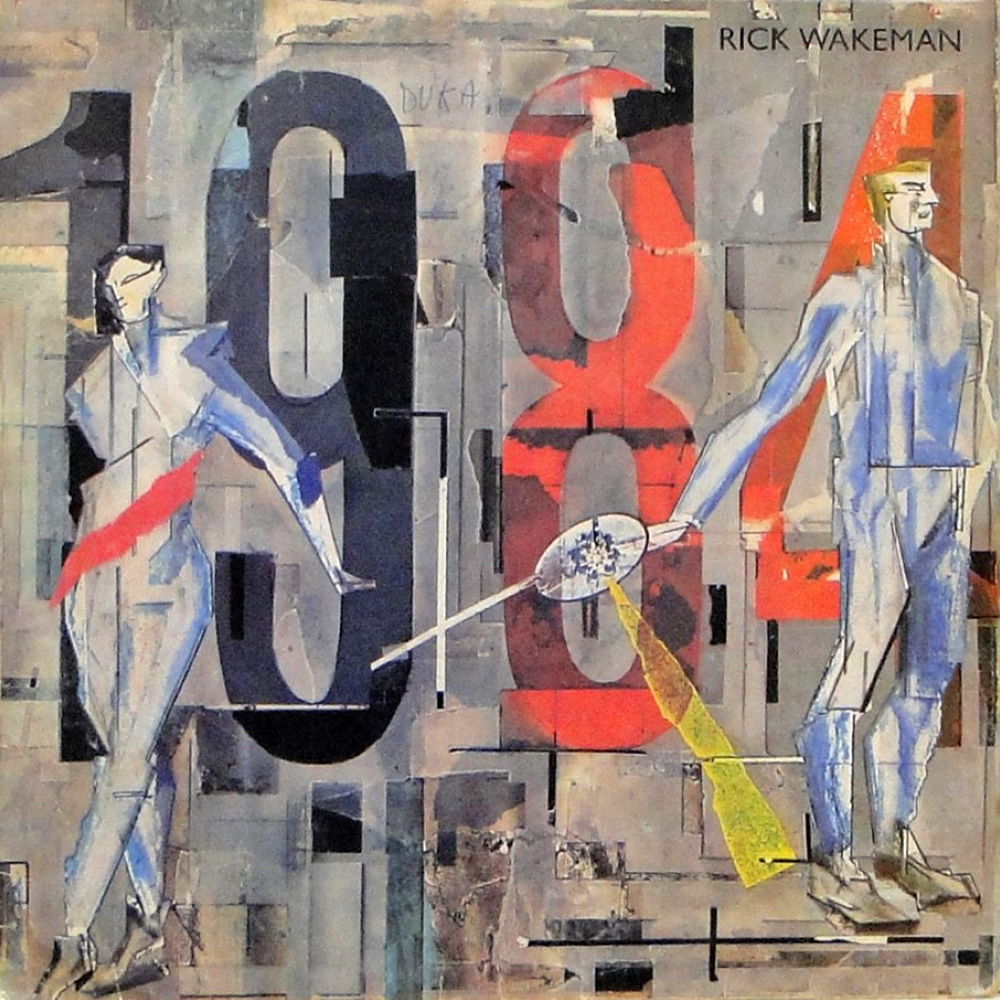 Rick's Perspective
Notes
The wrong album at the wrong time, with all the wrong people around at the time. To do an orchestral rock concept album at a musical time when I probably couldn't even have got a job as a piano tuner was nigh on suicidal. I formed the wrong band, (the worst I have ever had), the deal for the stage show fell through and all in all I listen back to the music with my head in my hands. True there are some good moments, but my personal life was such a mess at the time that I should have run away rather than run into the studio!
Wakey's Verdict
In retrospect, a mistake. Great lyrics from Tim Rice though and a magical performance from Chaka Khan.
Little Known Trivia
As a present for a member of the entourage, who will remain nameless, a "lady of the night" was brought in late one evening to say "thank you" on our behalf in the control room to the gentleman concerned. (Don't ask for any more details...because the trivia ends there)!!!!!
Reviews
Andy Nicholes on 28th December 2017 [Other reviews]
I bought "1984" circa 2000 (as a younger fan; I was 18) having discovered Rick via Yes. I took a chance on it not knowing anything other than Jon Anderson contributing 'The Hymn'. Like many other reviewers I have to say I happily disagree with Grumpy Old Rick! It's a fine album - dated for sure and cheesy in spots but that's what makes it fantastic! I told Rick the same when I met him after a show in Long Island, NY in October 2003 when he signed it for me. Upon presenting him with my copy he said "Well at least you have the Japanese import you can get more for it!" Haha. It proudly hangs on my wall to this day and I genuinely love the album. Give it another try Rick!
Daniel Hull on 6th June 2014 [Other reviews]
I, like many others was shocked to read Rick's verdict on this one and again, I couldn't agree less with his own verdict. This is one of those albums that hooked me instantly, for the summer of 2009 I couldn't stop listening to it. It flows nicely and the lyrics are great with the just the right balance of catchy easy to listen to songs and grander arrangements, I'd rate this above most of Rick's albums. Rick, listen to your fans, take pride in this work, we're telling you it's great.
Juan Mares on 25th April 2013 [Other reviews]
Sorry Rick, but I couldn't agree less with your opinion on this album. OK, this one is not The Six Wives, Arthur, Journey or No Earthly, but in my opinion this is really a wonderful album, full of great moments. It came in a difficult moment, sure, but it has a classic feeling on it all and keys work, the singers and music are great. I remember having heard Rhapsodies (which I didn't like at all back then) not long before and I was somehow reluctant to buy 1984 as I thought it would be a similar work, but I am happy I finally decided to get it. I especially like the "classic" overall ambience in contrast with the history. Give this one a try, you won't regret.
Hans van Hengel on 11th December 2008 [Other reviews]
For some reason unknown to me Rick himself is much too negative about this one. OK it's no Six Wives, King Arthur or Journey but it grows on you as you play it more often.
Simon Slator on 16th June 2006 [Other reviews]
Despite Rick's misgivings, 1984 really isn't all that bad. There are moments, especially in the Overture, when the band rocks harder than I've previously heard on a RW album and, on the slower tracks, Rick's capability for sweet and delicate music really shines through. Agreeably, Tim Rice's lyrics (and his quirky vocal on "The Proles") are among the album's high points. More importantly though, the bulk of Rick's albums take several spins to grow on me, yet this one I liked right from the off. 1984 isn't a bad place to start for the RW newbie and, thanks to its recent re-issue on CD, it's accessible in more ways than one!
Keith Andrews on 17th August 2005 [Other reviews]
This album has matured with age. Whilst I wasn't overly keen on some of the songs or singers in 1981, after 20 plus years, they can stand on their own. As such Chaka Khan is excellent, Hymn is pure Jon Anderson. Proles is a fun, if a bit of a throw away song.
Cláudio Venditti on 3rd August 2004 [Other reviews]
Forget Rick's opinion! This is a wonderful album. Good orchestration, beautiful melodies, lyrics and vocals. The instrumental tracks are superb. Great songs! I remember how happy I felt when I first heard The Hymn and Julia on the radio because that period of time was very difficult for Walkman's fans in Brazil, and this album gave us what we all expected. For me it's the finest work since No Earthly Connection.
Alan Morgan on 23rd May 2004 [Other reviews]
This is one of those albums where there are several guest vocalists, and your appreciation of the songs is largely dependent upon whether or not you like each vocalist. Chaka Khan has never been one of my favourites as I've always found her to be a bit undisciplined, but the others are good. Jon anderson always works well with Rick, as they are after all, both members of Yes, and Steve Harley does a brilliant guest spot, so you are more than compensated for Chaka Khan if you don't like her. The instrumental tracks are again, superb, and the finale is even more so. Even though the concept was all too quickly overtaken by history (it being released in 1981), the musical content carries it way past that, and it stands up as a great recording even now, twenty years after the actual "1984".
Aurelio de Moraes on 24th August 2003 [Other reviews]
This is an outstanding album, "The Room (brainwash)" for me is one of the best things Rick has ever composed! I also liked the band of the album, I don't know why Rick didn't like them. The track "1984" teaches anyone how to compose progressive rock music, and at the end there is something like a circus sound. "Julia" is the most beautiful song and for me Jon Anderson should sing "Robot Man", Chaka Khan sometimes is singing too loud. Rick should play "The Room" in his shows. Please Rick!
Reniet Ramirez on 3rd November 2002 [Other reviews]
It's funny to think that I actually hated this album when I bought it. But after a few years of being in my CDs rack I gave it a 2nd chance. "Overture" & "The Proles", made me feel comfortable with the CD, but when I saw the live version of "The Hymn/Robot Man" in the "Live Buenos Aires DVD" it totally changed my perspective. Now I can honestly tell you it's a great album. And I learned something very important too. Since Rick has so many diferent styles, it happens a lot that you buy a new album especting certaing style and when you listen to it you receive the surprise of hearing a total different thing and therefore you "don't like that album". But the truth is that you just have to wait a bit till you change your mood and giving it another try till you find your peace with that album. (NOTE: this doen't apply to the boring New Age albums. LOL :)
Steve Glossop on 21st August 2002 [Other reviews]
1984 was Rick's last big production concept album of this era before Punk's tenious grip finally faded and Rick with it! The Overture is, without doubt, one of Rick's most enjoyable intrumentals. What people shouldn't forget is the wealth of talent associated with this album. The production for a start is excellent combined with strong lyrical content from Tim Rice and some great vocals from the guest starts. The whole work oozes quality and great musicianship from all parties concerned. I feel this is a highly underated album and deserves a higher status amongst Rick's works. But that's just my opinion!
Guillermo Villegas on 20th September 1999 [Other reviews]
I found this cassete in my father's collection along with MaLoKing Arthur, well, this one was found but with a cut tape so I was unable to listen to it but 1984 was brand new (my father bought it in 1982!!!) I listened to it and man, the overture is fantastic, I like Jon Anderson's vocals on the Hymn, Robot man is also cool but in this song I don't like the vocals so much. In the cassette I found all the names of the songs were translated to Spanish because it was made in Mexico, so it was hard for me to translate them to English, but finally I translated them all. The keyboards are played very good, no other keyboardist can play this! (maybe some from this album)
Guillermo Iacaruso on 27th July 1999 [Other reviews]
IMHO, this album is great. If you're looking for the classical-stuff, you'll find some here; if you're looking for the modern-opera 80's style, you'll find it here. Maybe this is a transition album, but definitively is one of my 10 RW fav albums !!!! The vocals are OK too.
Julian Simpson on 23rd July 1999 [Other reviews]
The instrumental tracks on this album are very good (in particular the recurring 1984 theme itself), but I consider the songs poor - I don't even like "Julia" or "Hymn" which seem to rate highly on this web site's "favourite songs" list & the song "The Proles" must be Rick's all time worst! An album to listen to on CD so that the songs can be programmed out!
Henry Kujawa on 7th April 1999 [Other reviews]
"Flawed, yet UNFORGETABLE"
I guess any time you get a collection of diverse talents in one place, the results are bound to be uneven. That certainly happened here, as Rick presents a musical 'adaptation' of George Orwell's novel about a future where conformity is all and love a crime against the state. Much of it is too harsh & 'noisy' for me, yet in here are 2 of my very favorite Wakeman tracks. "Overture" is a glorious, magnificent work of sheer wonder! (The first 5:02 of it anyway, before it turns nasty-- thank goodness for CD players!) And then there's Chaka Khan's vocal on "Julia", one of the most beautiful (and yet tragic) love songs I've ever heard. For Rick, only "Heaven" from PHANTOM POWER even comes close! Anyone who's heard this and liked it should also definately get themselves a copy of THE CLASSICAL CONNECTION, which is where I first heard it, in instrumental-piano form. When I assembled my own custom "Best Of Wakeman" CD, the first 3 tracks on the comp were "White Rock", "1984 Overture" (edited, I cut the song off just before the vocals came in), and "Julia". What a GREAT, GREAT opening section!
Bjorn Olaf Syvertsen on 4th December 1997 [Other reviews]
This album is very good, especially side 1. Highlights are the first three tracks - and of course "Hymn", where Jon Anderson makes his contribution. Those four tracks are among Rick's best. The rest of the album is also quite good, but still far inferior to those four tracks. But I would definitely recommend this one.
Tom Brenny on 24th September 1997 [Other reviews]
After a very good overture, this album dies. Straight forward, bland rock that I would pass over on the radio. Vocals are very strange; Chaka Kahn screeches. Jon Anderson almost saves the day with vocals on only one piece. One to pass on - it'll just gather dust.