Softsword (1991)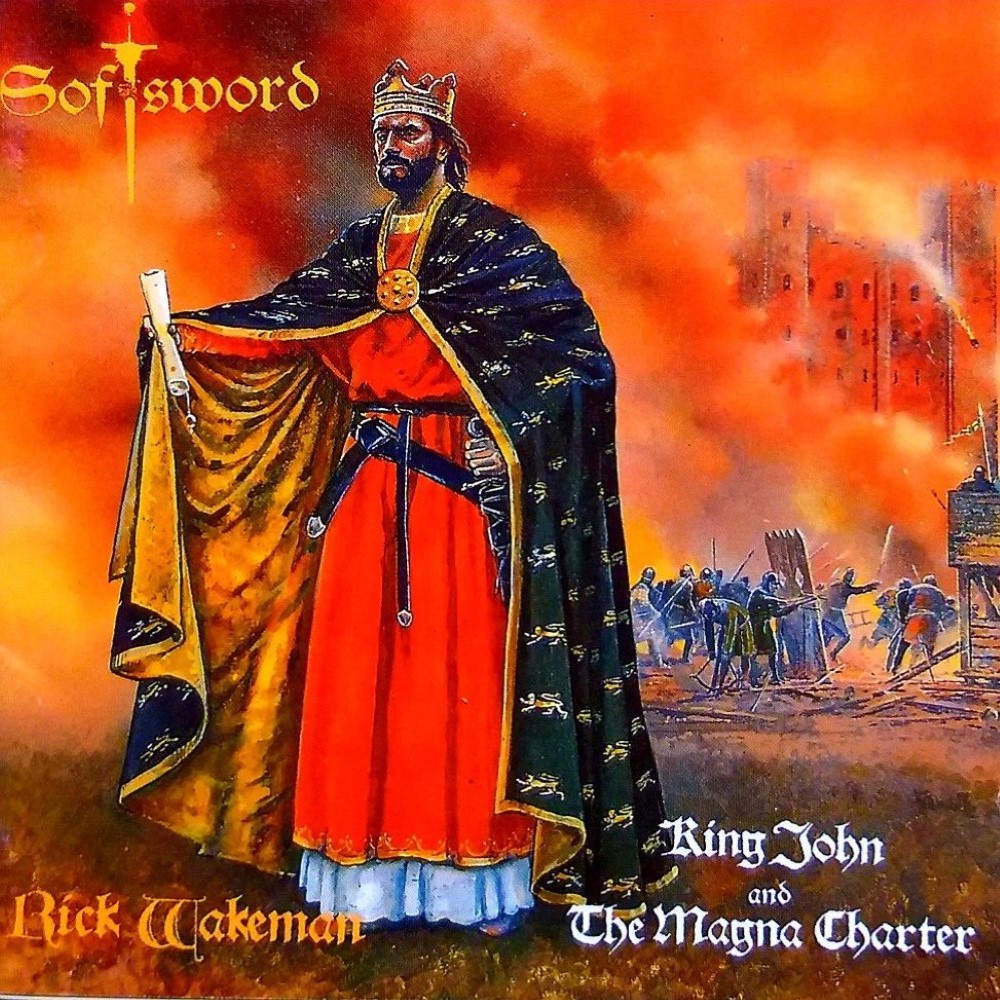 Rick's Perspective
Notes
Based on the music recorded for a huge pageant at Rochester Castle, a lot of this music I am pretty proud of. The only downside was the usual lack of a proper budget in order to give the music the classy recording I think it merited. "After Prayers" was a piece I was particularly proud of and one of the best tracks that the great Chrissie Hammond ever sung for me.
Wakey's Verdict
I'd buy it just to hear Chrissie Hammond sing After Prayers!
Little Known Trivia
This was the last album of mine that was ever originally pressed up in vinyl. The CD pressing came much later.
Reviews
Sergey Lenkov on 9th May 2003 [Other reviews]
A consept prog-rock album, historical topic. If you`re starting to listen to Rick`s classics - "Travel to the Center of the Earth", "King Arthur" - you should prepare for a long orchestrated songs. This album much softer (without losses of quality of music). It`s very interesting how Rick with the help of only horn player imitates Baroque orchestration in the first song - "Magna Charter". Every Rick`s album got his own mystery. Mystery here is "After Prayers", probably the best Rick`s lyrical song. Meditative bluesy ballad with emotional vocal by Chrissie Hammond and beautiful organ party (I think it`s Hammond organ). Emotional and spiritual final song "Hymn of Hope". Do you need more words?
Bjorn Olaf Syvertsen on 12th November 1999 [Other reviews]
I had high hopes with this one. The cover looked just right. And well - this is Rick trying to meet the 90s but still keeping one foot back in the 70s. The arrangements are nice - and some of the instrumental parts are quite good. The songs, however, are simply a bit monotonous and boring. The great exception though, is "Hymn of Hope", which is truly a great song. It is placed at the end - but the question remains: Is really all well that ends well?
Siggi Zielinski on 11th October 1999 [Other reviews]
To me it's very far from being a masterpiece. Some good compositions here, some indifferent and at least one very bad.It sounds indeed like a cheap production also including partly the worse vocal contributions from Chrissie I've heard till now. Personally I also would expect something epic sounding from an album called "Softsword (King John And the Magna Charter)" instead of shallow poppy sound. Well, choir and orchestra may be to expensive; how about some heavy overdubbing action then? Nowadays, one man can sound like an orchestra, technique is no limit anymore.
Julian Simpson on 23rd July 1999 [Other reviews]
A brilliant collection of songs and instrumentals with a common theme. For me the album highlights are the songs "After Prayers", "The Siege" and "The Story of Love" (Chrissie Hammond's voice suits them perfectly) and the instrumentals "Rochester Collage" & "Softsword" (very melodic and evoke a real feeling of the history). I totally disagree with the reviewer who criticises this album for "very weak" production. Sure the music has no orchestral or choral arrangements, but the resulting tight rock band sound makes this a really enjoyable listen. I rate Softsword right up there with Arthur, Journey (x2) and Six Wives.
Marc Frey on 6th January 1998 [Other reviews]
This album absolutely needs a re-recording. There are some nice compositions on it. But also some important things are missing:
The production is very, very, very weak! (Sorry, Stuart). Also I think there is a need for a little bit more overdubs to reach a fuller, richer, more powerful sound (for example first track and the brass orientated tracks).
Nothing against Chrissie Hammond, but the album would more interesting with a second, male voice as an alternative.
Some parts scream for a choir!
Some new tracks should replace the most uninteresting parts.
Please, better drums and percussion.
So why not? The Music has the potential to be a second "Arthur"!
Mats Landstrom on 17th October 1997 [Other reviews]
Actually very much in the Arthur vein but without real strings, brass and choir. Good songs but a low budget production that leaves much to be asked for. Very good vocalist.
Armando Betancourt on 29th April 1997 [Other reviews]
In appearance simple and straightforward, after repeated listening 'Softsword' proves to be a brilliant and mature exercise in restraint and deceptive understatements. Music and lyrics show Rick at his very best composing and scoring arrangements, so this