Retro (2006)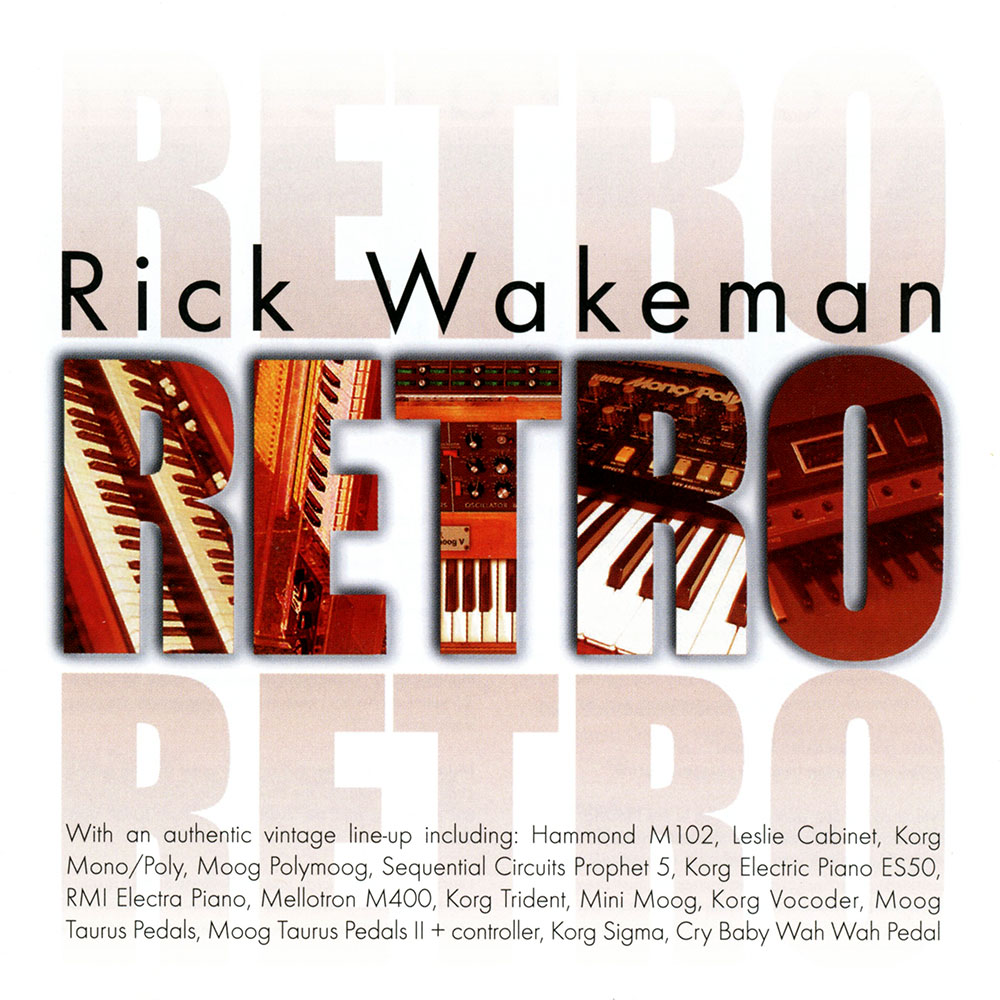 Rick's Perspective
Notes
Wakey's Verdict
Little Known Trivia
Reviews
Christian Loebenstein on 17th June 2006 [Other reviews]
This is the album I have been waiting for a long time. I can well remember asking for the possibility of an album like this in the website Q&A back in 200? - yeah, long time! I can also imagine very well that it must have taken many hours to make those keyboards work properly (well, more or less), but they sound fantastic! And you can actually hear that those songs have been written especially with those keyboards' sounds in mind - only the production, crystal clear - contrary to the overproduced and heavily compressed "Out There" - is far from Retro, but that doesn't bother at all. Going further in detail (spoilers alert) I really liked Rick's musical quotes from his past: the Mellotron line from "Heart of the Sunrise" in "One in the Eye" (great title!) or the Mini Moog line at the end of the solo of "Men in Suits" originally from "Merlin The Magician". "Leave The Blindfold" is a superb lo-fi synthi-pop song with great vocals from Jemma Wakeman. Generally Rick once and for all proves that he is the Master of the Mellotron!!! But we knew that, didn't we? Okay, enough said. To cut things short: Go out and buy this album!
Chris Jones on 5th June 2006 [Other reviews]
Best described as a high-energy trip down memory lane, reviving pre-digital technology and real drums. Personally I always loved the old synthesizers with strange-sounding names and that makes this album a big event in my book. Good songs and plenty of fantastic solos. Get in there!
Neil Mason on 23rd May 2006 [Other reviews]
Been looking forward to this for a while, after Rick played some of this on his successful Planet Rock radio slot on Saturday mornings. I can honestly say this album is one of his most fresh and 'new' sounding in recent years, which is ironic considering the keyboards used on this project. A perfect companion to Out There IMHO. 10/10 Great stuff.
Aurelio de Moraes on 16th May 2006 [Other reviews]
I had to buy this album at the internet, because it's impossible to find Rick's recent works here in Brazil, like the new DVD 'Made in Cuba'. But that's ok, it's for a good cause. Very, very good album, which reminds me a lot old Rick's works. The synths are great, just like the Mellotron and the Hammond Organ. Ashley Holt is better then ever, and the big surprise is the vocals of Rick's daughter, the beautiful Jemma Wakeman! This album is certainly better then a lot of works that Rick recorded at the eighties. The first track 'Just Another Day' gets things off to a great start. The second, 'Mr.Lonely' has some aggressive , weird and distorted vocals with a great moog solo. This moog me reminds me science, I don't know why. 'One In The Eye' is an excellent short instrumental work out, with a great bass line. The song is very similar to 'White rock 2' pieces. The synths with Mellotron are very nice. Fernandez is excellent here while Rick has plenty of fun. Classic Wakeman. 'Men In White Suits' starts with a nice slow symphonic introduction. The Mellotron is well used here before Holt takes over with his powerful vocals. Then another instrumental section follows that again is classic trademark Wakeman before Holt returns again. Not too much to dislike here. Good solid prog. 'Leave The Blindfold' it's very quiet, with not too many solos and is ably sung by Rick's daughter Jemma. 'Waveform' is the second pure instrumental piece on the album. This track reminds me a lot the great album 'Rhapsodies'. 'Retrospective' is another quiet and dramatic song, again with vocals by Jemma. 'Homage To The Doctor' is a tribute to Bob Moog as you might guess. Crazy moog solos, that Keith Emerson probably will love. Rick does some brilliant soloing before Jemma and Ashley finish the track off with great vocals. 'Can You Smell Burning' starts with some Wakeman Hammond work similar to Six Wives, with a tiny Hammond solo. Tony Fernandez provides the oomph factor on the drums. Top notch instrumental. The album is finished off with 'The Stalker'. Holt sounds suitably desperate as he laments not being able to be with his true love. The lyrics are maybe a little on the Andrew Lloyd Webber side of things but it's okay. For me , this album is a masterpiece. I ´d really like to watch Rick performing this tracks alive, with all the vintage keyboards and Jemma and Ashley singing. Highly recommended CD!
Bazbo on 4th May 2006 [Other reviews]
Man! This one is fantastic! I just ordered this album from my local record shop and since then it's in my CD player all the time. This is Mr. Wakeman at his best, using all the analogue keyboards that were hidden in his vault for more than 25 years. Read the liner notes for more information on that. The very fat sounds of the old synths and keyboards dominate this album! I particularly like the solos in the opening track 'Just Another Day', the riff in 'One In The Eye', the lovely sung (by Mr. Wakeman's daughter Jemma) 'Leave The Blindfold' and the very 70s sounding 'Can You Smell Burning'? The band is doing a great job, the Mellotron's sound fine, and even the compositions are very nice, in my humble opinion. Here we are: one of the highlights in the entire RW discography!!!
George R on 4th May 2006 [Other reviews]
Retro is a fully produced, fully realized prog-rock masterpiece with a proper band. Ashley, Jemma, and Rick himself take turns on the vocals. Rick plays only analog keyboards and they sound amazing. Retro has a great variety of material. There's stuff that's spacey, stuff that's bubbly and exuberant, stuff that's dark, stuff that's very funny, stuff that's epic, and stuff that rocks your socks off. And of course there are jaw-dropping displays of musicianship throughout. The running order is perfect resulting in a very satisfying listening experience from start to finish. The production is adventurous and Retro is one of the few recent rock albums that was actually mastered properly. It sounds crisp, clear, spatial, and dynamic. Bottom line: I consider Retro one of the greatest prog albums of all time. I hope it sells very well. It deserves to.
Daniel Hull on 28th April 2006 [Other reviews]
The whole concept behind 'Retro' is the vintage approach, using only modern recording techniques so that now we can enjoy Rick's most traditional form of music but with the benefit of 21st century recording quality. As for the music itself, it creates a strong enigma right from the off, rather in the same way as 'Out There'(2003) does, with a mysterious keyboard riff. There are many catchy keyboard riffs undertaken on much of the vintage line up, the best of which I noted to be in the tracks, 'Waveform' and 'One in the eye'. These are what it's all about, and confirm that Rick still has it as far as progressive rock is concerned. The youngest sound on the recording is that of Rick's daughter Jemma, who gives some sterling vocal performances alongside Ashley Holt, who consequently is well-known amongst Rick's fans from being in 'Journey to the Centre of the Earth' (1974). In conclusion, if you've enjoyed any of Rick's previous albums you're sure to find this a great listen. You've done it again Rick!
Peter Middelberg on 14th April 2006 [Other reviews]
This is the album we have been waiting for! It is truly a trip back in time. It takes me back to the first albums right through to the latest albums with the keyboards from the golden days and the production and energy of now. Ashley Holt's voice is in top form, and the (fantastic) voice of Rick's daughter Jemma is really British and very gentle (on Leave The Blindfold), love it! And even though the album spans nearly 70 minutes, it leaves one wanting more, so putting your CD player on repeat, will give you the thrill of this album again and again. Rick mentions in the sleeve notes that this is a truly one off album, due to the condition of the older keyboards etc., but let's hope he grabs one of them from time to time on his new albums to come! This albums bursts with an incredible energy, and leaves me wondering what it would sound like if Rick would guest play on an IQ album, because their styles are very similar. The tribute song for Bob Moog is a fitting one, it is not a sentimental slow song, but instead a rocker (Mr. Moog would have been proud). I can go on and on, but experience this CD yourself, you will not be disappointed! PLAY IT LOUD! (but be careful). Rick, you did it again, and please keep doing it! Out of 5 stars I give it 6!
Angel Muñoz on 13th April 2006 [Other reviews]
EXCELLENT!!! SUPERB, masterly 70s Rick Wakeman returned!!!!!!! mixing the prog style in most of the pieces, and in the other the new Rick, it is superb, and interesting, old instruments but with the new sound quality of 2006, like if you were in the 70s with the 2006 technology, very original!!!!! excellent one to have!!!!
Gavin Hogg on 11th April 2006 [Other reviews]
Right from the opening bars of Just Another Day you know this album is going to be special, yes its a step backwards to see further forward, excellent lyrics and vocals from Ashley simply add to this superb album, Boy o Boy would I like to see this album performed live but I'm sure due to Technical difficulties (gear all about 35 years old) alas not. No weak tracks here everyone a gem, even the slightly unusual "Leave the Blindfold". I've been a fan since Six Wives and this album simply reaffirms this. P.S. well done Jemma. Highly Recommended. A Homage indeed to the Dr…
Paul Adams on 6th April 2006 [Other reviews]
For those have haven't heard this album I thoroughly recommend it, especially if you miss those 'heady' 70's LPs. As with most Wakeman releases several plays are required to fully appreciate/take in what's on offer here and what's on offer is the best Wakey CD I've heard in ages; I don't know if it's just me but I feel that Rick's dexterity gets lost 'in the mix' (or was it the production?) sometimes on the digital keyboard albums, if you know what I mean? On this CD the keyboards really sing - something I've really missed - prominent solos, not solos lost in the mix but ones that soar! Jemma makes an appearance on backing vocals and lead on 'Leave The Blindfold' The best way to describe her voice is as 'pure' very well trained and sweet. The only criticism that I could lay at the door of this CD is the occasional 'duff' lyric but I love this CD so much I can easily forgive its very occasional lyrical misfire...& as usual Ashley does a great job with the vocals, his voice has real character and presence. I nominate 'Can You Smell The Burning' as one of the most powerful tracks since those on the 'Six Wives' album - and that's saying something :-) Mr. Fernandez's live drumming is a treat on this CD - please Rick forget Drum machines in the future, there's no substitute for a real drum kit, it makes all the difference and really compliments the keyboard work.
Winston Arntz on 5th April 2006 [Other reviews]
While moving someone said to Rick Wakeman that he should make an album with those vintage (the youngest being 25 years old!) keyboards alone and immediately a new project was born. It is obvious that the album lives up to the title. While 'Retro' was being recorded synthesizer legend Bob Moog died and so Wakeman decided to write a song especially and a thankful tribute it is. 'Retro' literally is an old fashioned but very nice album that and I think there aren't too many albums that are recorded with fire extinguishers on standby these days... (full review on www.yesfocus.org)