Out There (2003)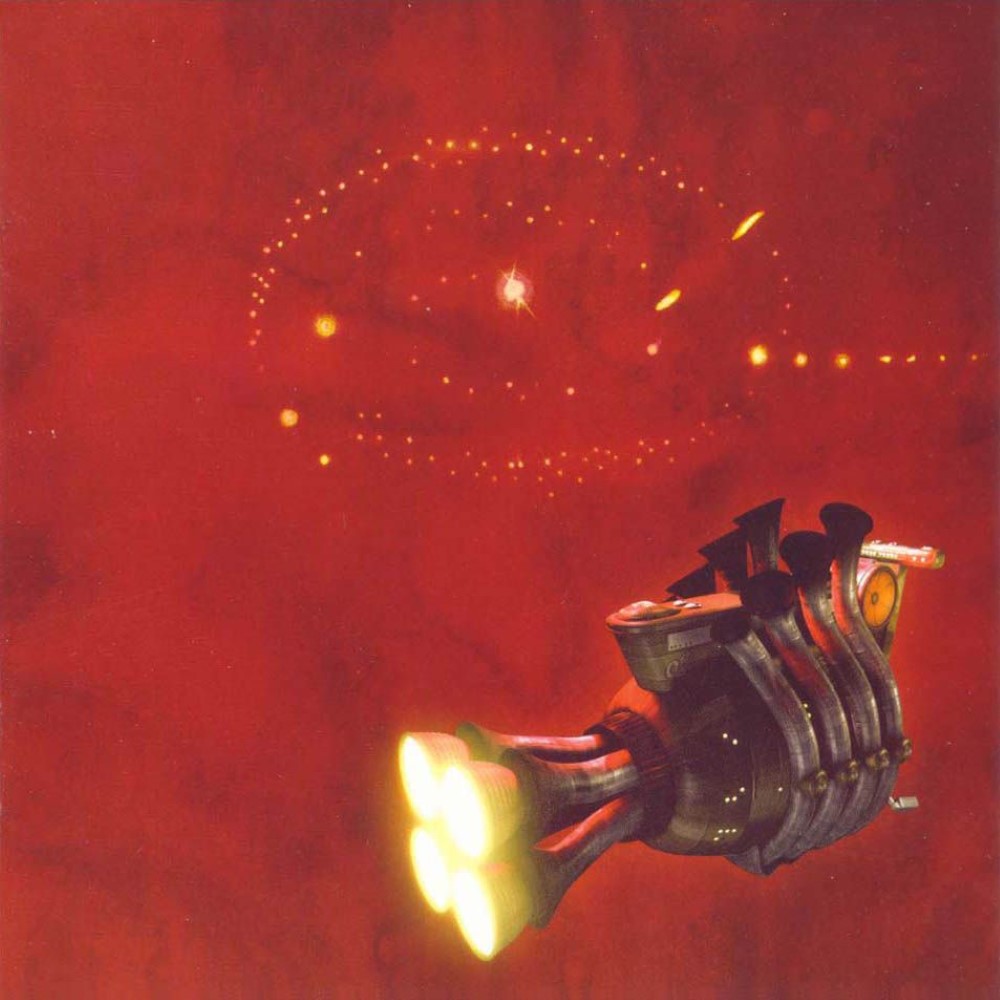 Rick's Perspective
Notes
Wakey's Verdict
Little Known Trivia
Reviews
Criag on 1st June 2017 [Other reviews]
Very rocky bits interspersed with classic Rick keyboards and choir, this is Rick at his best - had me from the start.
Andriy Yena on 25th August 2008 [Other reviews]
I'd like to say I am just posessed by this "music of the spheres". The album sounds absolutely perfectly with the great rhytm section and lovely motifs... Brilliant vocal. I feel the mystery of the universe every time I listen to the album. It is too unusual but I enjoy it restarting again and again. Rick's music call me to the new horizons in my life. Wish his lyrics were printed for being Ukrainian I can not catch words...
Daniel Hull on 18th April 2005 [Other reviews]
You would have thought that after 32 years Rick's work would have become rather samey and boring, in fact it's getting better than ever, this is without a doubt his best album to date. I bought this Album in Aberdeen whilst waiting for a train back to London, and what better way to kill 7 hours, but to listen to this album 7 times? I mean the classic combination of Keyboards, Drums, Guitars and Choir that we know so well from many of Rick's albums is back and better than we've ever known before, well done Rick, I take my hat off to you.
Alan Morgan on 1st December 2004 [Other reviews]
Having ordered this from RWCC, and asked for a signature, I expected this to take a while to come back, but it was faster than expected - about three weeks. I couldn't wait to stick it in the CD player, and boy was it worth the wait. The epic opening title track sets the pace for a superb album that Rick should be incredibly proud of. His band are, in a word, great, and the singer has a good range to his voice allowing the music to soar to incredible heights, without him sounding as if he was straining his guts out just to hit the notes (note Hammersmith Live CD, where the singer had to transpose the songs as he sang them). This is a really excellent package, and I can't wait to see them live.
Aurelio de Moraes on 23rd July 2004 [Other reviews]
Great album! Reminds-me a lot some hard rock, specially the track " Universe of sound",that sounds like Deep Purple or Nightwish. Rick should use a real Hammond Organ in " to be with you", but that´s ok. I wish I could listen "Out there" on a space station, looking to Earth.
Billy Wilson on 12th October 2003 [Other reviews]
This album is exceptional from beginning to end. The individual tracks are strong musically with a good production. Some have said the guitar is too harsh but in my opinion the guitar is very fitting in the overall sound. I wish the drum sound was different with the exeception of 'To Be With You'. The vocalist is also fitting with the type of music. It is interesting to note the difference betweeen his performance here and the one on the 'Live in Buenos Aires' DVD. Mr Wakeman is still a brilliant songwriter and conceptualist. I hope he will continue to produce very adventurous music for our listening enjoyment.
David Westerlund on 30th September 2003 [Other reviews]
I just bought the album here in Sweden, which is sort of rare, because Wakeman albums are usually pretty hard to find. Being a long time fan, I didn´t hesitate. The style did surprise me a bit at first, it´s much more heavy metal than previous releases. And there´s even guitar solos! It´s quite shocking actually, since the keyboards are usually in the mainframe. Anyway, the sound is crisp and sounds pretty modern, which is what I guess Rick was going for. The only thing I miss are the sudden changes in the music. Its a little too easy for a prog-fan to follow the songs because they have such a steady beat, except for cathedral in the sky, which is by far the best track. When I heard what the album was about, I envisioned a continuation of "no earthly connection", so I was a bit disapointed For my taste, it was just too much rock and too little classical. But those who like the heavier stuff will probably dig this.
Neil Mason on 11th August 2003 [Other reviews]
I'd just like to say a few words about this latest release, or should I say word...WOW... this has got to be Rick's best since the seventies (IMHO). As a keyboard player myself, I can only say that the drawbacks are the choice of synth sounds, however, what a brill moog solo 8 mins in on the main track!! Don't stop Rick.
Bjorn Olaf Syvertsen on 18th June 2003 [Other reviews]
I had read all these ecstatic reviews of this album, and by all means - it IS a good album. But is it really THAT good? "The cathedral in the sky" is a glorius triumph, however, and quite obviously the best track on the album. It sounds like a cross between "Judas Iscariot" and "The last battle". This is Rick at his best. The rest of the album is generally good but not truly great. They pass by more unnoticed. But "The cathedral in the sky" would make this album worth the money all by itself, so there is no doubt that Rick fans should buy it.
Adriano Beltrami on 27th May 2003 [Other reviews]
Out There is the best album Rick has unveiled over the last years and I suppose it's everything the fans were waiting for. The album is energetic, cohesive and musically very strong. More than a solo effort, it's a band album, and Rick is at service of the music, synths and guitars many times running together and fighting for room. As for ERE, throughout the album they are brilliant and incredibly tight. The title track is an epic of the best vintage and with the tempo variations and choir that comes in to add the classical element, it can be considered as equal to Journey and Arthur. Apart from that, halfway the end of the piece there is a synth solo (Moog, I dare say) which is to absolutely die for. "The Mission" keeps the high vibes and presents Rick on a solo organ that takes me back to the seventies and I just loved it. (Apart from Rick and Keith Emerson, is anyone out there – no pun intended – still messing around with Mini Moogs and Organs?) Tony introduces "To Be With You" and this piece has a sentimental mood. Again the chorus is present and it fades away leading the end of the song. "Universe of Sound" is breathtaking and it also presents very good solos, but there are strong echoes of "Never is a Long Time" from "Return" casting a shadow on some parts of it. On the foreword, Rick explains that the Album's writing started more or less 5 years ago, let's say circa 1997. "Return" was recorded in 1998 released in early 1999; so it's possible that "Never is a Long Time" has the echoes of "The Mission" instead. Nonetheless, the similarities are evident. "Music of Love" is strong and intense and here the keyboards conduct the piece along with the guitars. By the mid of the piece Rick throws a solo that if this song is ever played on stage, I'm sure it would be extended and it would be really something. Having read other reviews whilst awaiting the arrival of my CD from Amazon I had high expectations about "Cathedral of the Sky" but I have to say I was disappointed with it, because all the right elements are there, church organ, choir and Rick, but the opening riff which is repeated throughout the piece is rather corny and does not correspond to Rick standards (Yes, I can hear the moans and groans, but I had to say that). Probably productions costs prevented the use of a real church organ, and the result is that it sounds a bit synthetic. Anyway, this is a great album and for the reasons above mentioned I give it 9 out of 10. It's 100 per cent prog rock (I've read this elsewhere) and highly recommended not only to the fans, but also to everyone who loves great music.
Mark Cocking on 21st April 2003 [Other reviews]
Out There is clearly Ricks' best album in recent years. Reminiscent of certain previous epic albums yet rooted firmly in the present, the album reaches epic symphonic proportions in the opening track. If any criticism can be levelled at it, I guess it must be that the heights reached in the opener are rarely reached again until the last track. That is not to say that the intervening tracks are weak in any way, though I do find that they seem to be'full on',insofar as they don't allow you to mellow. I would love to see this presented live, where I am sure the dynamic of this music would be better justified.Come to Newcastle Rick! why are you not? The production does, at times, minimise the virtuosity of the keyboard and guitar solos as they blend into the mix. A common fault with digital recording and production. You don't get to hear those beautiful MiniMoog filter sweeps in all there richness.That said, the album explores the source of music. How is it that we are literally moved to experience emotion, and so much more, by this strange thing we call music... or sound? Where does it come from? Ricks'lyric doesn't try to impose an answer, merely embellish the question, and, in so doing, leaves the listener to explore their own 'music soul'.Perhaps there was a time when Rick might have alluded to the rather specific answers to these questions, to be found within the the ancient Hermetic writings and other 'myths' from an ancient pre-christian era,which state that the universe itself, and all that is within it, is literally created and structured around a form identical to that observed in music theory.Conducted by God. As a scientific researcher myself, I must add that I have found nothing to persuade me that those ancient theories are wrong in any way.But Rick seems to be suggesting that music is of, and from, God (in the Christian sense) and is not therefore to be questioned, merely experienced. Whether one agrees or not with that 'hands off' philosophy, one thing is clear from this album. Rick is heading back towards his own 'music soul' and his ability to write epic themes and symphonic rock is still there, as good as ever. Wherever it comes from! A great album, and, I wouldn't mind betting, he is going to build on this in the near future.
Steen Madsen on 14th April 2003 [Other reviews]
A brilliant album, with a lot of sound like Yes (of course) and Black Sabbath (Specially the vocals). Fantastic combinations between synths and vocal choir and fantastic guitars. If I should compare this album with other Wakeman albums, I think it sounds like Return To The Centre Of The Earth, 1984, "Journey" (the original version of 1974) and No Earthly Connection in a good combination. Five out of five stars.
Andy Whitfield on 4th April 2003 [Other reviews]
I'd like to review the new Rick Wakeman CD 'Out there'. The CD in my mind is a good mix of old and new 'Wakeman' in my view this is one of his best to date. The superb vocals of Damion Wilson compliment this wonderful Rick Wakeman music score. If I had to pick one track above all others it would have to be track 3, 'To be with you'. Its words are simply wonderful and reflective in nature. Track 6 'The cathedral of the sky ' is also a great track to finish a great album. Well done, Rick. 10 out of 10.
Yann Clochec on 1st April 2003 [Other reviews]
I have received the CD yesterday from RWCC and haven't stopped listening to it since. In my opinion it is the best Rick has recorded since "Criminal record". It is a truly epic work in the tradition of Rick's 70's recordings, but without the extravaganzas (or should I say pomposities ?) that sometimes went in the way in some of Rick's earlier albums. Here the compositions are more focused on the concept of the album. Rick does wonders on keyboards as usual, but in a more "restrained" way than on some earlier albums. No showing off here, just virtuosity at the service of the music, with some of the best keyboard parts ever written by Rick. The ERE also shines here, with a very tight performance. Definitely a "must buy". With great expectations too for the forthcoming DVD.
Don Cassidy on 30th March 2003 [Other reviews]
When I heard that Rick Wakeman was going to release a "progressive rock" record in 2003, I was very excited. I have already been very pleased that Wakeman is back behind the keys with YES. One of my all-time favourite concert highlights was seeing Wakeman playing the 'Mighty Wurlitzer' organ at Radio City Music Hall during a Yes concert this past summer in New York City. To me, Wakeman is one of the most important figures in the history of progressive rock. The idea of him returning to his roots with a progressive release is music to my ears. Needless to say, I am very impressed with the release and Rick and the band are in excellent form throughout. 'Out There' contains a beautiful dedication to the seven astronauts who flew the last Columbia mission. This is a very appropriate dedication since the album relates the origin of music to 'unseen dimensional astral plains somewhere amidst universes known and unknown'. Wakeman's lyrics constantly reinforce this theme. The album begins with the epic title track, 'Out There'. Wakeman's symphonic intro lets the listener know he or she is in for a musical treat. The track, like many great epics, is broken into many sections. Wakeman's keys are outstanding throughout, as are the vocals of Damian Wilson. Wilson, who reminds me a bit of Cairo's Bret Douglas, has outstanding range. It is obvious why he was voted by the Classic Rock Society as the best male vocalist of 2002. I am also very impressed by the guitar playing of Ant Glynne. His driving guitar is present throughout the track and he explodes with a few blistering solos. In classic Wakeman fashion, a choir is used on many of the tracks. The choir adds to the emotionality of this particular piece. This song, in my opinion, is a modern day prog classic. 'The Mission' opens with Wakeman's keys, which are joined by long time band member Tony Fernandez's drums. Once again, Glynne's guitar is prominent. Excellent playing by bassist Lee Pomeroy is also evident. I especially enjoy Wilson's vocals on this song. 'To Be With You' begins with Fernandez on the electronic drums and the intro reminds me of the Yes song 'Lift Me Up'. The choir has returned to handle the chorus in a beautiful fashion. 'Universe of Sound is the most rocking song on the album. Wakeman and Glynne alternate several amazing solos. I really like the variety of sounds that Wakeman is achieving from his keyboards on this album. The song ends with an incredible Wakeman solo. 'Music of Love' is another great rocker that features more great keyboard and guitar solos. The final song, 'Cathedral of the Sky' is a favourite of mine. In vintage 'Jane Seymour' fashion, Wakeman's presence on the church organ is unmistakable. The church organ/choir interaction is magical. The ten minute plus track is another Wakeman classic. Overall, I feel that 'Out There' is an outstanding album. I am very impressed by the band that Wakeman has put together. More than a solo effort, this is truly a band album. Wakeman has never sounded better and his songwriting is outstanding. I am also impressed by how important Ant Glynne's guitar was to the overall sound of the album. With some albums that feature keyboardists, the guitarist will often take a back seat. This is not the case on this album I really enjoy Wilson's vocals and Fernandez and Pomeroy are solid throughout. The addition of the choir completes the sound. In my opinion, 'Out There' compares favourably with any of Wakeman's albums from the 70's. The missing piece now is an American tour from Rick and the Ensemble. Of course, I will settle for some more US Yes dates. After hearing how great Wakeman sounds on this album, I am really excited about the prospect of a new Yes studio release! I highly recommend this album to any lovers of progressive rock and consider it a definite early contender for album of the year.
Graeme Stewart on 22nd March 2003 [Other reviews]
Time was when a new album from Rick was a major event in my life, just as it probably was for many of you "out there" (groan!). I would be on the doorstep of my local "record shop", (remember them?!),waiting for it to open on the day of release, bunking off college, work, etc., just to get my hands on this precious item. I hadn't felt like that since around 1983, after hearing "Cost of Living", but still remained a fan. I thought, after seeing the concert in Perth last May, that this album was going to take me back to those days.(Except that in place of the "record shop", I had pre-ordered at Amazon!).Well, firstly, it didn't arrive on the day of release (black mark against Amazon!), but arrive it did. What can I say? 3 out of 5, I am afraid. Musically, it is strong. I'd say it's Rick's best studio playing for A VERY LONG TIME, but it is let down by other parts of the mixture. I think you need to find another singer, Rick. Damian Wilson may have power, but he has a limited range, and his voice has no "light & shade". It's all at one place, and that can be very wearing. Think of Ashley Holt,(to use an example). He managed to sing the Gary Pickford-Hopkins parts with ease. Damian Wilson CAN'T carry that off. Sorry. Secondly, no disrespect (people usually do mean disrespect when they say that, but I don't) to Ant Glynne & Fraser Thorneycroft-Smith, but the only place Rick needs a Guitarist is in YES. It's just a case of following the old rock formula. They don't contribute anything significant to a Rick Wakeman album. I want to hear Keyboards take the lead here, not guitar solos. I do have to say, though, that it is a far better album than "Return", which didn't feature enough Rick either, and seemed rather formulaic. The keyboard sounds are a joy to listen to and, as I said previously, His playing is the strongest album work for years. I know I come across rather negative, and I'll be surprised if this review gets published, but I WILL be playing this CD, unlike "Return", which hasn't seen the light of day for at least 18 months! P.S. the 3 stars are largely down to Ricks' playing & the quality of the music.
Ray Bannister on 19th March 2003 [Other reviews]
Well worth the wait and I haven't stopped listening to it since it arrived. This is Rick back to his roots and back to his best. The album certainly grows on you the more you listen to it with my favourites being the title track 'Out There' and the last track ('The Cathedral of the Sky') with it's 'Jane Seymour' organ. The vocals from Damien are excellent and the choir adds to the whole listening enjoyment. Throughout the album the music from Rick and the NERE and choir is excellent with a variety of keyboard sounds and styles. It's certainly a rock album but not too 'hard' to listen to and enjoy. I don't like all of Rick's stuff - but I certainly like this one !! As has already been mentioned there is also a touching tribute to the Columbia crew on the cover and a bit of history about Rick's interest in space - something I was unaware of. In summary you hardened fans won't be disappointed, and anyone considering buying their first Rick album, you couldn't do much better than this for a starter! Thanks Rick for a great album - can't wait for the tour and DVD !!
Kevan James on 18th March 2003 [Other reviews]
I listened to this for the first time this morning while walking to work. Since I've been a fan of Rick since "Journey" (I was given this for my 12th birthday and I'm now 40!!), any new album is an event to celebrate and not being able to listen to it last night was very frustrating. The title track is epic in ever way - 13 minutes long (and broken into different parts like all prog-rock epics should be!), with massive keyboard and guitar solos, a great rock vocalist, and that fantastic pairing of the church organ and choir, a sound that for me is trademark Rick Wakeman. The closing track "Cathedral of the Sky" reiterates that wonderful organ/choir combination and leaves you wishing for more. This is a fantastic album. I would never want to say it's the best Wakeman album ever, simply because there are so many that are fantastic but it's easily the best new prog rock I have heard for many years. Highly recommended (and should be amazing live).
Matt Wharton on 15th March 2003 [Other reviews]
Out There is THE best album in the world! But I think in a review, I should give my reasons. Well first off, this album is wonderfully dedicated to the Columbia Disaster. With a lovely dedication text on the inside cover. And the songs are just incredible. "Out there" is in 5 Chapters. All together they make Out There a brilliant production, and my favourite on the album. "The Mission" is also exceptional. "To Be With You" is a great song, with good drum modifications. "Universe of Sound" another brilliant rock song is just fantastic, great guitar riff, solos and vocals. "Music of Love" another great production, absolutely excellent guitar/Moog solos. "Cathederal Of the Sky" long, But VERY much worth it. Makes you bob your knee the whole way through, brilliant Church organ most of the way through. All together makes this album The best I have ever heard. You cannot fault this album - really. And the lyrics are deep and imaginative. Totally "Unfaultable" THANK YOU!!!!!