Wakeman with Wakeman - The Official Bootleg (1994)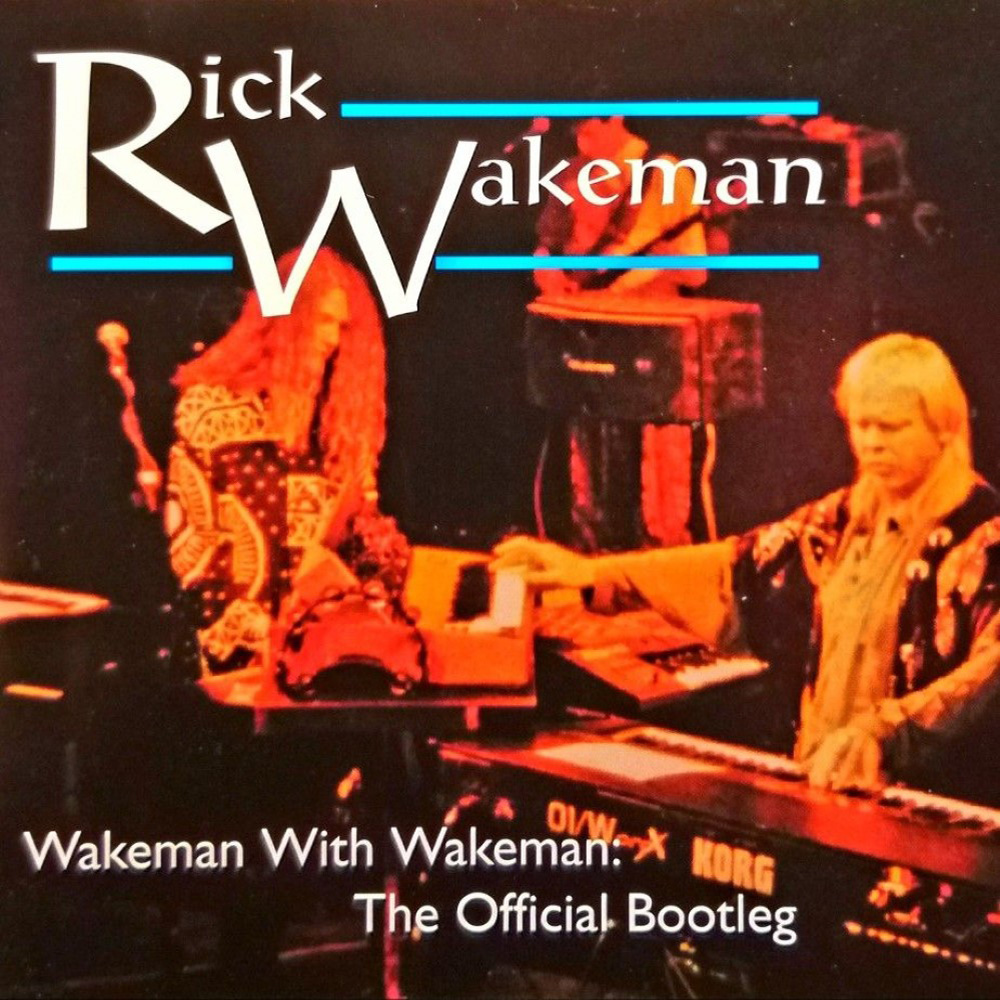 Buy Double CD&nbsp from Emporium
Rick's Perspective
Notes
Well worth having. Some classic performances and all unedited so what you hear is what you get.
Wakey's Verdict
An important part of the "live" history.
Little Known Trivia
This album was recorded direct to two track tape and so could not have been remixed even if we'd wanted to!
Reviews
Carlos R. Rivera on 4th August 2004 [Other reviews]
I had this for years and am still amazed at the work, especially on Journey. The entire work is one of the best live shows ever.
Christian Loebenstein on 22nd November 2000 [Other reviews]
This double CD includes performances from the 1993 Wakeman with Wakeman Tour and features 75% of the set. I saw one of the shows that year - sadly enough the excellent "Suicide Shuffle" and "Sea Horses" are not included here. The band (Rick, Adam, Tony Fernandez and Alan Thomson) are in great shape, and the sound (board-recorded: the bootleg factor) really reflects the atmosphere of the show. Since they didn't have a singer on that tour, "Journey" is 38 minutes all instrumental. "Lure Of The Wild", probably the most powerful track on the album, is probably also one of the most underrated Wakeman compositions. Since 1994, this set has been released in different forms with different titles and artwork, so if you're not one of those "I must have them all" collectors, check the releases before buying them.
Julia Harries on 11th November 2000 [Other reviews]
This two cd set was recorded live in front of 8,000 people in Buenos Aires, Argentina during August 1993. On this tour, Rick was accompanied by his son Adam who also plays keyboards, long time collaborator Tony Fernandez on drums and Alan Thomson on Bass. "Lure of the Wild" opens the first cd with an atmospheric intro and some typically dazzling speed playing from Rick. Live regulars "Catherine Howard" and "Catherine Parr" both give him the opportunity to play a bit with the basic pieces, a task he accepts with relish. Rick's arrangement of the Beatles' "Eleanor Rigby", is wonderful and a great live piece. Highlights from "The Myths and Legends of King Arthur" are played without the vocal accompaniment that makes an interesting change. The second cd is almost entirely devoted to "Journey to the Centre of the Earth" and very good it is too. Again, no vocals allows the music to paint the pictures and the arrangements are fantastic. Even if you know "Journey" really well, this live version will give you a whole new perspective on it. Rick's interpretation of "Paint it Black" the Rolling Stones hit, is the last track on the cd and is absolutely stunning. Throughout, it's practically note perfect and as the sleeve notes say, no jiggery-pokery has been done to the recording at the mastering stage so you can be assured this is exactly as the audience heard it. Rick Wakeman is at his very best in front of an audience and this cd proves it in great style.
Reniet Ramirez on 12th April 2000 [Other reviews]
It contains one of the most INCREDIBLE performances, "Past & Present". This live version is a lot better that the original. To the point were it inpired my brother to write a story for a movie. On the other hand I don't think that songs like "Journey..." should be played instrumentally.
Siggi Zielinski on 6th September 1999 [Other reviews]
Well-known Wakeman classics played once again by gifted musicians. Plus one Beatles and one Stones composition. I don't quite see, why having a huge discography Rick always seems to play only "Six wives","Journey" and "The myths.." live. After two discs of this "Official bootleg" I get the feeling that this kind of synth-improvisation over given rhythm-section doesn't quite fill the listener's time. A change of mood or of improvisational speed might have caused some increase of audience's attention.