Black Knights at the Court of Ferdinand IV (1989)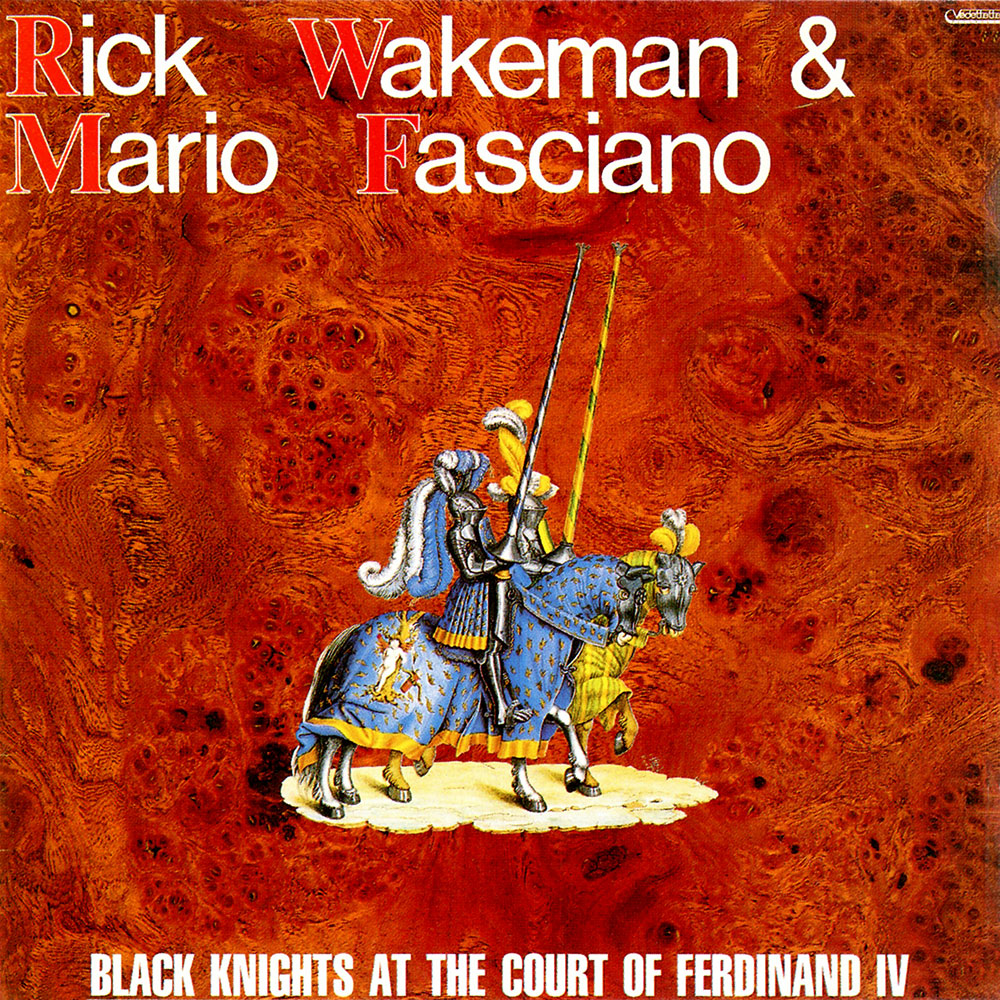 Buy CD&nbsp from Emporium
Rick's Perspective
Notes
The whole idea of this recording was to merge the wonderful melodies of the Neapolitan style from southern Italy, so melodic and romantic, with prog rock type of arrangements. I thoroughly enjoyed making this album although I was not happy with the mixes that I felt could have had better results if it had been mixed using a food blender.
Wakey's Verdict
If you understand Neapolitan Italian, then this is for you!
Little Known Trivia
After the recording I discovered that my air ticket back from Italy was not from Naples but from Rome and the only way I could get there was to bribe a train official at the station and get the overnight midnight cargo train to Rome and then walk along the tracks for the last mile from the sidings just outside Rome. I slept in a wooden carriage for the four hour journey with piles of newspapers, bottle of wine and a goat.
Reviews
Alan Morgan on 23rd October 2003 [Other reviews]
Looking at the Italian sounding name on the cover of this made me think that we were in for something very classical sounding, and maybe even an operatic album. This is not the case at all. Mario Fasciano has a voice very similar to the Great 70s sound of PFM (anyone remember them?). This is a really good prog rock album, which interweaves the Neapolitan sound with rick's excellent keyboards almost as if the'd been working together for years. My old copy still gets played on my Radio Show regularly.
Solomon Eagle on 8th January 2003 [Other reviews]
Hmmm...I was dubious at first, having picked this up in my local second-hand record shop in Tokyo. Rick and some unknown chappie (to me at least - apologies to everyone who's heard of Mario Fasciano!), putting together an album about a King and Court I've never heard of. Hmmm. Just shows how wrong you can be - this is classic Wakeman, on a par with 'Six Wives' or 'Arthur', and doesn't deserve the neglect it's fallen into...why hasn't it been re-released? The subject matter, the language (Neapolitan, is it?), the playing - all of these things conspire to make it a kind of 'Arthur' for the Nineties; by that, I mean that Rick's Keyboards and his ideas of what a song/track should be had changed but he still managed to capture not only the essential 'Rickness' of the subject, but also provided a perfect foil for Fasciano's lyricism and romanticism. In short, a classic: all you RW fans out there, hunt this down and enjoy...
Marco Guarato on 20th November 2000 [Other reviews]
Please take note, everyone of you, that the lyrics of the album are not in Italian - it is Neapolitan, so you couldn't be able to understand it even if you are learning Italian. Mario Fasciano is Neapolitan as well - and I think this is why the album is so unique: the baroque, redundant renaissance style of our Rick goes directly into the baroque, redundant mediterranean style of Neapolitan popular music, creating a brand new style that you only can define TRULY progressive. Also note that in Italy the album has been almost completely unsold - strange things happen under the sun of Napoli!
Bjorn Olaf Syvertsen on 22nd May 2000 [Other reviews]
This album is quite nice, with some very nice and melodic pieces. If you want Rick to play nice SONGS, then this is one of the obvious albums to go for. The singer is ok, and the arrangements as well. But the strongest part of the album is truly the melodies. Very few Rick fans have noticed this album. Perhaps they should.
Julian Simpson on 23rd July 1999 [Other reviews]
I have never taken much notice of song lyrics & hence have always thought them to be irrelevant to my enjoyment when listening to music. Black Knights (lyrics in Italian) would seem to disprove this view. Unable to understand a single word - I find the songs difficult to enjoy. I must also admit to finding the voice of Mario Fasciano somewhat bland. However I do enjoy the instrumental passages - although I would not consider them to be amongst Rick's best work. [Could anyone supply a translation of the lyrics on this album - I would be very grateful?]
Armando Betancourt on 15th July 1997 [Other reviews]
Rick's Third Royal Masterpiece. Lyrics in Italian (not included, unfortunately!), and excitingly close to the very best Italian progressive bands. In a rock trio format, Rick gives ample space to guitars and singer/drummer participation. Half of the tracks are great instrumentals. In a league by itself, "Black Knights..." shouldn't be overlooked!