Keyboard Legend Rick Wakeman & The English Rock Ensemble Return To Prog On New Album "The Red Planet"
Preorder Now and other special offers - Video Updates
Keyboard Legend Rick Wakeman & The English Rock Ensemble will be releasing "The Red Planet" on April 3, 2020. The album features 8 newly composed pieces, especially for this project, and harks back to Wakeman's critically acclaimed debut album "The Six Wives of Henry VIII" where there were 6 heavy keyboard pieces based around a central subject matter. It is a serious return to "Wakeman Prog"...
Rick has blown the dust off his favourite analogue keyboards and along with his with the latest keyboards, has used the same formula he devised when making his legendary albums The Six Wive's of Henry VII and Criminal Record.
Upon being asked about the expectations of his Prog Fans, that they are hoping he will have shoved the "Prog Fader" up to 11, he replied, "That could be a problem.... as it's already at 14!!!"
The first 1,000 units of vinyl come in 180-gram red double vinyl, signed and numbered, in a special "Pop-Up" album cover. The first 2,000 units of the CD edition signed and numbered, in a special "Pop-Up" CD album cover. These collectors items are sure to sell out quickly, fans are advised to pre-order to avoid disappointment, or worst still having to buy copies from auction sites.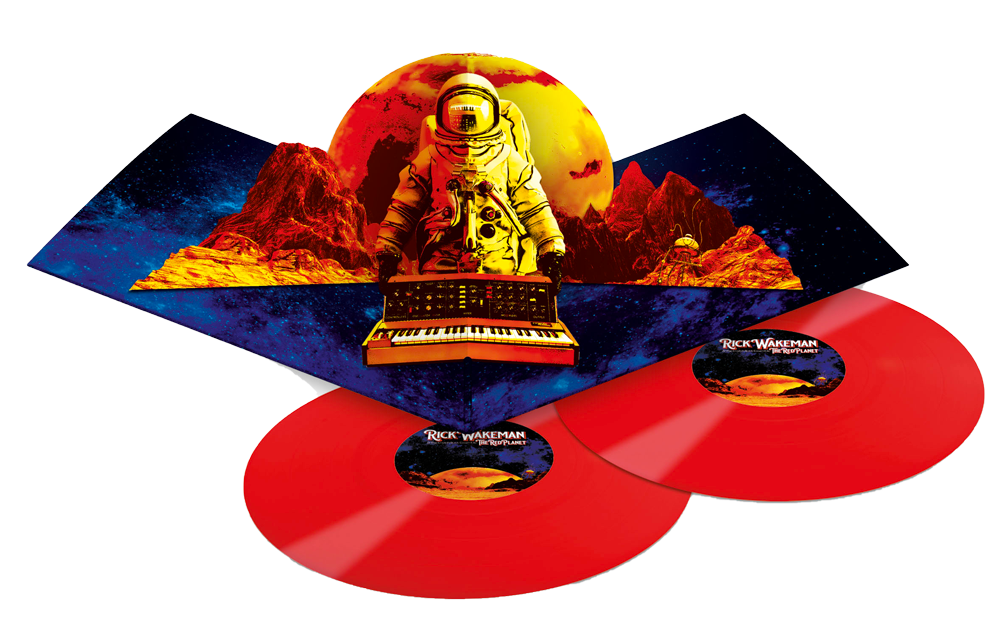 The English Rock Ensemble (ERE) features:
Rick Wakeman - Keyboards
Dave Colquhoun- Guitars
Lee Pomeroy - Bass
Ash Soan - Drums
Produced by Rick Wakeman and Erik Jordan
This is the first release on the newly formed R&D Media, which is a transatlantic partnership between music business veteran and long time Wakeman sidekick Rob Ayling and rock journalist and producer Doug Harr.
Release Update
Everyone here is excited to get The Red Planet into your hands as soon as possible. Unfortunately, the reality of the current world situation is such that work on the project is affected by manufacturing and logistical issues. Regrettably we're therefore going to miss our April date and at this point it's looking like it will be nearer to June realistically - this also applies to download releases. Rest assured we will be doing everything in our power to bring the date closer especially the downloads. We will continue to provide updates when we know more.
Video Updates