Playback Event Update
Despite Freedom Day in the UK, due to the ongoing COVID international travel restrictions, Rick doesn't want to run this event when his fans from outside of the UK are unable to attend. As such, the event is now being postponed until next year, in the hope that international travel restrictions will have being relaxed. Rick wishes to apologise to all concerned, however, he is sure that you will understand all is this out of both his and his team's hands. All ticket holders are in the process of being notified by email. If your email address has changed since you purchased The Red Planet, please contact Music Glue customer service to update and receive the notification.
New distribution deal with MadFish
Rick is delighted to announce a worldwide distribution deal for The Red Planet with Madfish Music, which will see standard editions of the CD and LP, along with download and streaming versions on all major platforms, released on August 28th 2020.
Available now! rickwakemanmadfish.lnk.to/TheRedPlanet
Keyboard Legend Rick Wakeman & The English Rock Ensemble Return To Prog On New Album "The Red Planet"
Keyboard Legend Rick Wakeman & The English Rock Ensemble has released "The Red Planet" on June 19, 2020. The album features 8 newly composed pieces, especially for this project, and harks back to Wakeman's critically acclaimed debut album "The Six Wives of Henry VIII" where there were 6 heavy keyboard pieces based around a central subject matter. It is a serious return to "Wakeman Prog"...
Rick has blown the dust off his favourite analogue keyboards and along with his with the latest keyboards, has used the same formula he devised when making his legendary albums The Six Wive's of Henry VII and Criminal Record.
Upon being asked about the expectations of his Prog Fans, that they are hoping he will have shoved the "Prog Fader" up to 11, he replied, "That could be a problem.... as it's already at 14!!!"
The first 1,000 units of vinyl come in 180-gram red double vinyl, signed and numbered, in a special "Pop-Up" album cover [SOLD OUT]. The first 2,000 units of the CD edition signed and numbered, in a special "Pop-Up" CD album cover [SOLD OUT]. These collectors items are sure to sell out quickly, fans are advised to pre-order to avoid disappointment, or worst still having to buy copies from auction sites.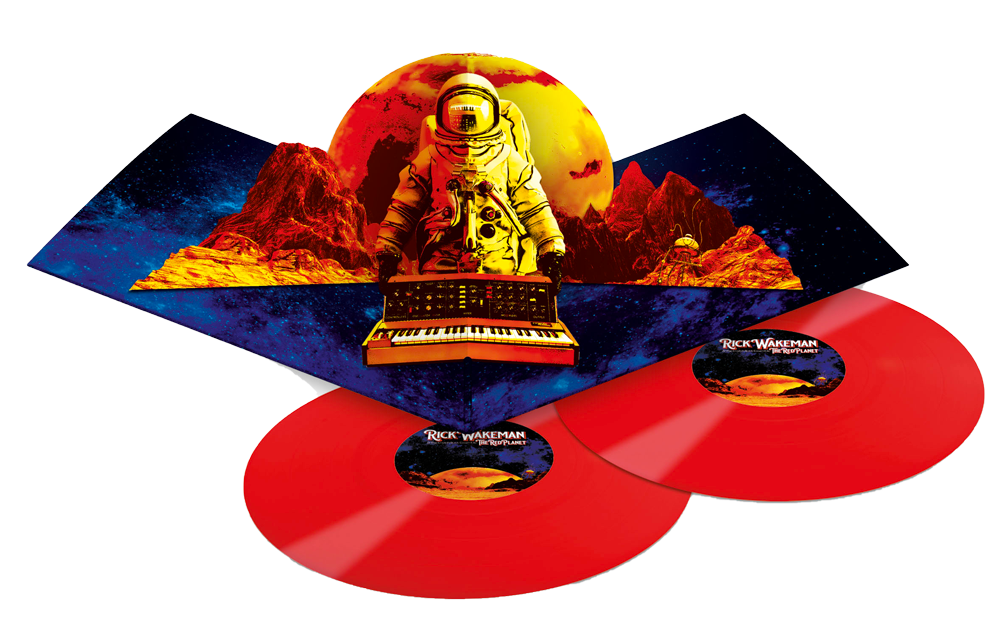 The English Rock Ensemble (ERE) features:
Rick Wakeman - Keyboards
Dave Colquhoun- Guitars
Lee Pomeroy - Bass
Ash Soan - Drums
Produced by Rick Wakeman and Erik Jordan
This is the first release on the newly formed R&D Media, which is a transatlantic partnership between music business veteran and long time Wakeman sidekick Rob Ayling and rock journalist and producer Doug Harr.
Frequently Asked Questions
When are you shipping each edition?

Standard CD - now
Signed CD - now
Signed vinyl - now
CD deluxe edition - DVD shipping now

I have received a shipping email from Music Glue, it's been 3 weeks but I still haven't received my item(s)

Please send us a message which we will forward to the store manager.

Is there a surround sound version?

Not for retail sale, however a 5.1 mix was included on the CD Deluxe edition DVD as a thank you for everyone's patience with the delay. There are no plans to make this available elsewhere, so please don't email to request that.

Is there a high-resolution version?

Only available on the CD deluxe edition which is now sold out.

Will you make the high res version available to download?

Maybe in the future, subject to the fans' interest.

How did the deluxe edition differ?

It had the deluxe pop-up packaging like the vinyl with a full booklet and eventually the bonus DVD .

What's on the DVD?

The high res version of the album, a dolby digital surround sound mix, plus expanded versions of footage shown online.

When is the DVD going to ship?

The DVDs are currently being mailed out. As usual at the moment, arrival times across the world could be several weeks away.

Is it on streaming platforms?

Is it sold on Amazon?

Is it available in high street record stores?

Yes.

What is the format of the vinyl release?

The vinyl is a heavyweight 180gms double disc set, mastered at half speed for the highest quality. The vinyl is played at 45rpm, not the usual 33rpm.

How is this new Madfish release different from what has already been released?

The original release from the Emporium focused on deluxe editions for the core fanbase to ensure they got to hear it first. Madfish will be taking the release into general, worldwide distribution, including streaming platforms, but these will be standard CD and double vinyl releases, without the popup artwork and booklet.

Will there be another print of the CD Deluxe edition with the DVD or the red vinyl?

No, these were both limited editions.