I was in the studio recording some keyboard parts for the upcoming album when I heard the desperately sad news that we had lost Alan.
I stopped work immediately and spent the rest of the day mulling over great recollections of the times we spent together, both musically and socially.
During the Going For The One tour, Alan and I were besotted with racquetball and bought the finest racquets we could and before arriving in each city, would organise 2-3 hours at a club to play before heading off, seemingly fitter (but also somewhat knackered) to soundcheck.
I remember him proudly introducing me to his Mum, who adored him and he, her. He lived in Seattle for many years with his beautiful wife Gigi, Jesse and Cassie but a large part of him remained in the North East, including his accent, which never faltered!
On our travels, we talked football, cars and musicians we had both worked with and Chris Squire's appalling time-keeping!
Alan and Chris arguably formed one of the finest bass and drums pairing in the history of rock 'n roll, if not the finest.
I thank you Alan for the great memories you have left me.
Heartfelt condolences to Gigi, Cassie and Jesse who have lost such a great husband and father.
Rick Wakeman, 27th May 2022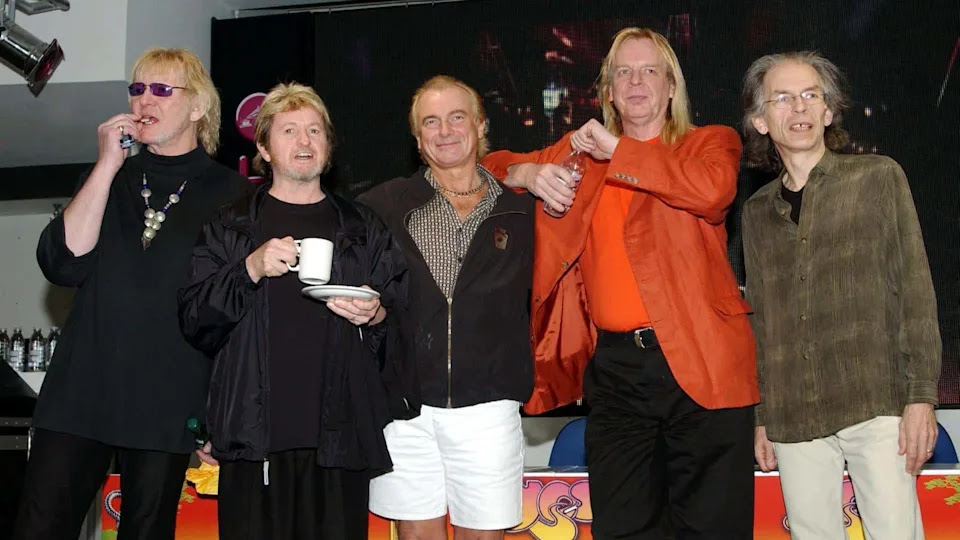 Alan White (centre) with YES.