Once again sincere apologies for this ludicrously late GORR but in mitigation, December was totally manic and I still have nearly 800 e-mails to answer that are sitting in my in-box!
In December there were seven Piano Odyssey Xmas Shows which I really enjoyed. It was great to have Steve Rawlings as my guest at the Bexhill show and Triple Cream at the other six. It's lovely having guests with me, especially when they are friends.
Before the Xmas shows I went out to the Czech Republic and the Ukraine for piano shows with orchestra and choir. In spite of the very tight rehearsal schedule the concerts went really well and in fabulous venues. I also managed to do a bit of Xmas shopping as well!
On arriving back at Heathrow, I drove directly to a hotel where I met with Tim and Fuzz, the presenters of Car SOS to chat about the show the next day.
I am a massive fan of Car SOS and so I was in my element chatting about cars and the programme itself. My call time at the British Car Museum was for 11am.....but I arrived at 8.45!
Being a small part of the show and "the reveal" (for those of you who watch the programme you will know what that is), was fantastic and I got to drive a classic car that I had always wanted to drive.
I now have two great new car soul mate friends in Tim and Fuzz and actually got to meet Tim's parents who came to the Xmas show in Manchester. Also at the Manchester show was my dear friend Dan Wooding who has now returned from many years in California to live in Wales close to his family. He was looking really well and it was great to see him and the family.
On Thursday 13th I was part of a Xmas event at the London Library, organised by Sir Tim Rice who is the president there. Fabulous evening and thanks to Hayley Sanderson who came along to sing Julia, one of the pieces for 1984 that Tim and I wrote together.
The 14th was wedding anniversary day. Rach and I have been together now for 16 years and married for 7.  Loads more years of adventures to come.
On the 15th I drove to Gloucester to be a guest of Alfie Boe's Xmas musical party which he organised with Peter Phillips, son of Captain Mark Phillips, who was also in attendance.  Alfie had his fabulous band playing and included Ben Miller and Roy Wood as special guests who were outstanding. I joined in a few great Xmas and Rock and Roll classics before heading off to a country hotel for a few hours sleep before driving to Bristol; the next day for the concert in the evening.
...............and so to Xmas and a rest for both Rachel and myself.
2018 has been a real mixed bag with some great concerts home and abroad, both solo and with ARW. The release of Piano Odyssey and some new box sets as well.
The year has been badly tainted though with some personal issues, which we have kept very private and which we will continue to deal with as a family throughout much of 2019, but the future is now looking all excellent and so life is slowly returning to a semblance of normality.
2018 has both taught and reminded me a few things though. It's reminded me how much I love to play live and meet people at concerts but I have had to realise that I can't keep up the pace that I have been for the last few years and so much as I don't want to, 2018 has taught me that I really do have to start slowing down and reducing my workload, so a bit of a rethink and new ideas are in the offing, but more about that in the 2019 January Gorr.....errr....due in a few days!!!
In closing, I can't thank you all enough for all your support and a very special thank you to Wayne Smith, my great friend of many years standing, for the incredible work he does on the website, Facebook and Instagram for me. You are priceless my friend.
Enjoy the rest of the Festive Season........love to you all from Rick, Rachel, Teaser, Harry and George.........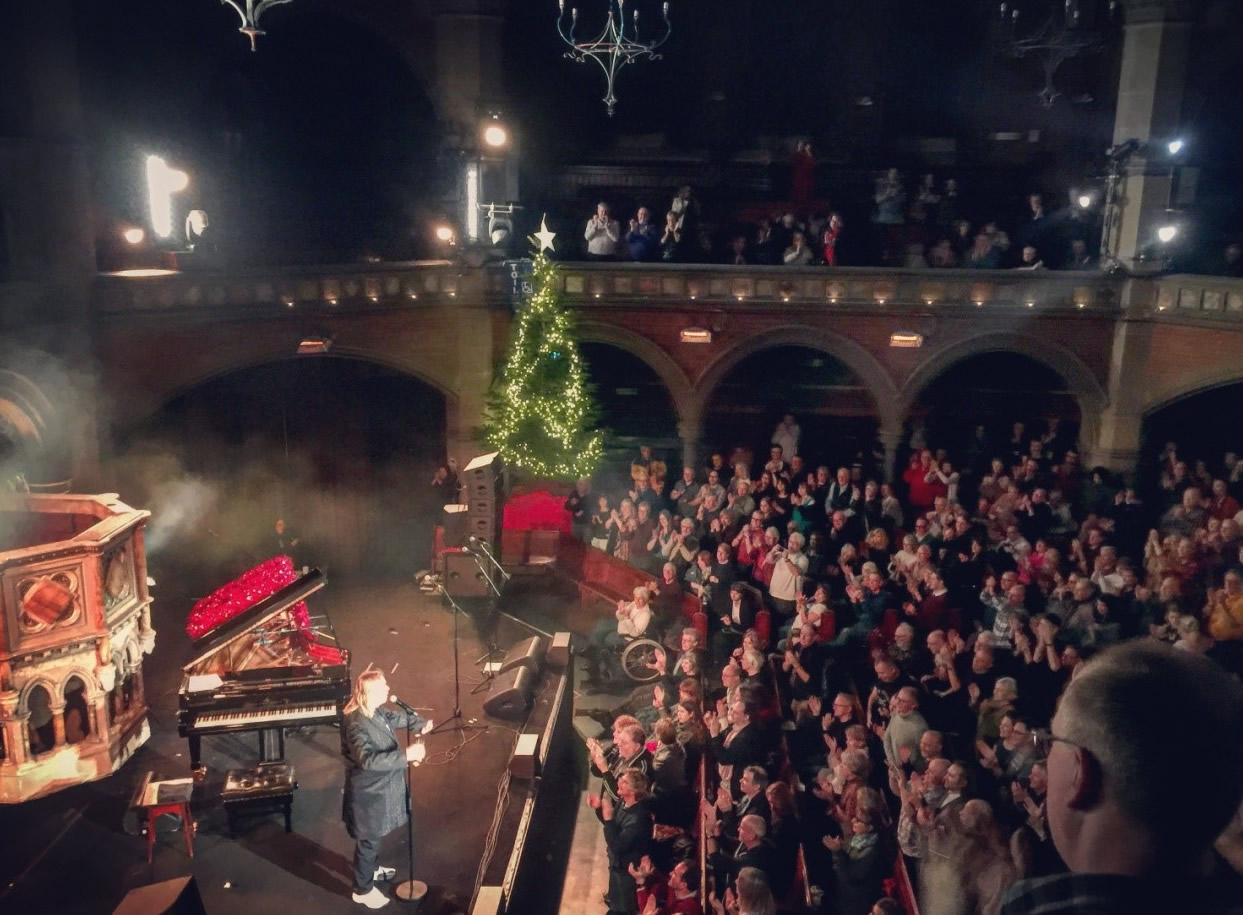 Photo taken by Jan Cassidy at the Xmas show at the Union Chapel in London.
Previous Editions